THE TOTAL PHYSICAL RESPONSE (TPR)
by Jennifer Higuera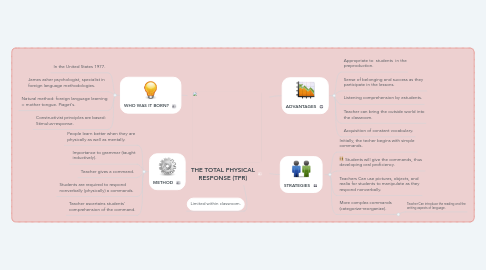 1. METHOD
1.1. People learn better when they are physically as well as mentally.
1.2. Importance to grammar (taught inductively).
1.3. Teacher gives a command.
1.4. Students are required to respond nonverbally (physically) a commands.
1.5. Teacher ascertains students' comprehension of the command.
2. WHO WAS IT BORN?
2.1. In the United States 1977.
2.2. James asher psychologist, specialist in foreign language methodologies.
2.3. Natural method: foreign language learning = mother tongue. Piaget's.
2.4. Constructivist principles are based: Stimulus-response.
3. STRATEGIES
3.1. Initially, the techer begins with simple commands.
3.2. Students will give the commands, thus developing oral proficiency.
3.3. Teachers Can use pictures, objects, and realia for students to manipulate as they respond nonverbally.
3.4. More complex commands (categorize-reorganize).
3.5. Teacher Can introduce the reading and the writing aspects of language.
4. ADVANTAGES
4.1. Appropriate to students in the preproduction.
4.2. Sense of belonging and success as they participate in the lessons.
4.3. Listening comprehension by estudents.
4.4. Teacher can bring the outside world into the classroom.
4.5. Acquisition of constant vocabulary.
5. DISADVANTAGE
5.1. Limited within classroom.