Proposed Elastic Learning Network
by
Brendan O'Keefe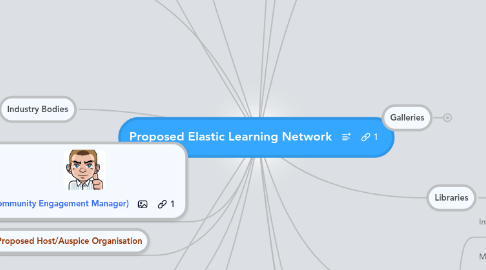 0.0
stars - reviews range from
0
to
5
We have so many great programs and formal learning institutions here in Melbourne but we don't have a flexible integrated network that brings together all the stakeholders that can help facilitate 21st Century learning opportunities for all learners. We have a terrific number of talented people who all want to work together to bring about engaging learning experiences for young and old, we just need a network and framework that supports all individuals and organisation formal and informal who want to teach 21st Century skills. If you or your organisation believe Melbourne needs a flexible, integrated, 21st Century learning network then put your details here. I am setting up this network (elastic learning network) as a incorporated association next year. This network will be modelled on the HIVE learning Network in the US My Vision is..... The elastic learning network elastic is a next generation learning network in Melbourne which is made up of libraries, museums, galleries, youth services, schools, universities and community organisations and indiviuals. These organisations and individuals seek to explore ways to work together, share resources and design integrated learning experiences in and around Melbourne. A community of designers, educators, youth workers, mentors, parents and subject matter experts collaborate within this network to facilitate integrated learning opportunities. Your expression of interest will assist in seeking support and funding. Brendan. brendanokeefe.com @insightguy
Build the network and nurture it (online and offline)
Connect & match to generate collaborative learning opportunities
Facilitate a series of quarterly Think Tanks
Support VIC PLNs
Build website, private social network and social media assets
Host offline community events
Facilitate member events
Foster R&D opportunities
Teaching & Training
Community Groups
YWCA
AMES Community Participation
Learning Partners
Opportunity Knocks You are here taking this quest because you have a will to be the best you can be and because you want to forge a pathway that lets you get paid to go things you love. This is you Passion Quest. What you make it will make you. Go forth and enjoy.... Points and Rewards: At the end of the Passion Quest you should have accumulated 200 points and numerous awards and badges. 140 points from completing the basic game challenges. You can make up the 200 or more from every piece of media content you create and collaborate on. You can accumulate more points and then win prizes. The starting point for most games is substantives, which make up the story and the environment. But verbs are what you can actually do in the story and environment. You can say substantives set the scene. You can have a game with a tree, car, boat, robber and cop, but before you add verbs it is nothing more than a representation. The substantives have a purpose. They set the initial stage, make actions meaningful, and add, in general, more immersion. They draw in the player by setting the scene, explaining the universe, and providing the background story. The substantives make your actions matter—they are required for the verbs to works, even if the substantives are sometimes very limited. Motivation should be in tune with the requirements of good gameplay like good balancing, a well tuned rewards system, varied consequences, and quick user feedback. This can also be summarized into the concept of "challenge." When a player experiences motivation they are challenged, which is the consequence of a number of underlying variables working well.
Who is the user?
What motivates them?
Consider the balance between challenge and ability
21st Century Skills
Creativity, Critical Thinking, Problem Solving, Communication and Collaboration.
STEM disciplines
Social Engagement Verbs
Libraries
Museums
Schools
Special Needs
Private
Public
International
Youth Services
Technology, Design and Communications Companies
Telstra
Motorola
Programs and Projects
Study Fresh
Independent Learning
My Pathway Plan
Story Maps & Writing Adventures
Identi-Tee
Easter STREAT Surprise
Languages Underground
Proposed Host/Auspice Organisation
State Library of Victoria
Universities
Research Partners
Australian Council for Educational Research (ACER)
Melbourne University
Digital Education Research Network (DERN)
Galleries
Industry Bodies
Other Organisations
Formats
After School
Saturplays
School Holidays
Camps
Hackathons
In school
Learning Games
Workshops
unConferences
Middle years City Experience
Online Webinars