Shelldale Community Center
by Danielle Christensen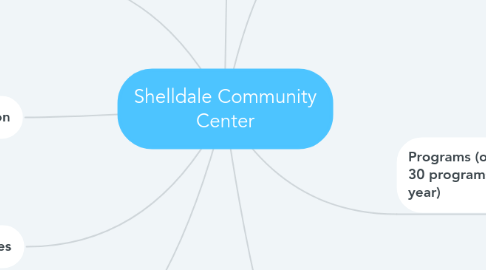 1. They are a non-profit, community benefit, charitable organization
2. Their multicultural approach strives to meet the needs of the Guelph community, offering programs and supports in over 30 languages
3. Mission
3.1. "To welcome and support children, youth, and their families living in the Shelldale Community, by providing programs, services and leadership opportunities."
4. Vision
4.1. "Working Together for a Thriving Community"
5. Values
5.1. Inclusivity, Diversity, Collaboration, Community Driven, Excellence, Respect
5.1.1. "We are an Inclusive, Diverse and Respectful Community Driven organization that promotes Collaboration and Excellence in Programming."
6. Programs (offers approximately 30 programs over the course of a year)
6.1. EarlyON Programs Providing opportunities for children from birth to 6 years of age to participate in play and inquiry-based programs, and support parents and caregivers in their roles.
6.1.1. Toddler day Drop in and play Sensory exploration Infant massage Women's circle Get set learn
6.2. Youth Programs They offer a number of youth programs that are available for youth between Junior Kindergarten all the way up to Grade 7 and above.
6.2.1. Breakfast Club Jr. Roots Royal Lead Mighty Willows Girls Art Group Teen Drop-In
6.3. Camps Shelldale Family Gateway offers weekly camps Monday to Friday during July and August for youth of all ages.
6.3.1. Junior Roots Morning Magic Camp Afternoon Action Camp Leader in Training
6.4. Community Programs These programs are responsive to the needs of the community and are created and sustained based on expressed needs from community members themselves.
6.4.1. Women's circle Community Garden Breakfast Club Skills upgrading program Pregnancy to parenting Guelph Young Parenting Education Program Action Read-North-star Digital Literacy
7. Programs offered in partnership with
7.1. Family and Children's Services of Guelph Wellington Guelph Community Health Centre Immigrant Services Upper Grand District School Board Action Read Onward Willow Neighbourhood Group City of Guelph Guelph Police Services Guelph Wellington Dufferin Public Health Guelph Soccer Kindle Communities
8. If you are interested in more information on programs, services and leadership opportunities to nurture a better future and a healthy community, you can call the centre, visit the website or visit the Shelldale Centre.