Have a Problem? Try Engineering.
by Katie Bodell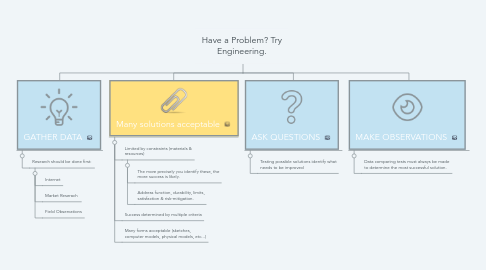 1. GATHER DATA
1.1. Research should be done first:
1.1.1. Internet
1.1.2. Market Reserach
1.1.3. Field Observations
2. ASK QUESTIONS
2.1. Testing possible solutions identify what needs to be improved
3. Many solutions acceptable
3.1. Limited by constraints (materials & resources)
3.1.1. The more precisely you identify these, the more success is likely.
3.1.2. Address function, durability, limits, satisfaction & risk-mitigation.
3.2. Success determined by multiple criteria
3.3. Many forms acceptable (sketches, computer models, physical models, etc...)
4. MAKE OBSERVATIONS
4.1. Data comparing tests must always be made to determine the most successful solution.