Walk About Love
by
Rotem Bar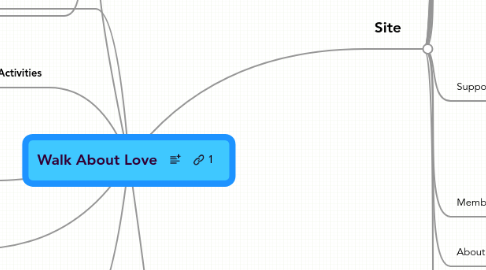 5.0
stars -
1
reviews range from
0
to
5
Walk about love is an organazation that wants to bring peace and love to all. We are doing this by sharing, letting everyone in, full transparancy on whats going on inside. Currently our main activity is organizing a journey, A hike through israel's trail starting 1st of march 2009. Everyone is invited and we will be glad to see u all there. www.walkaboutlove.org
Happyness
Together
Creating the vision
Walking together
Spreading the word
Internet
Promotion Kits
Links from other sites, link exchange, Similiar organizations, Ideas?
Physical
W.A.L Bracelets
Activities
Volunteer conferences
Seeds Of Change
Eco Projects
Social Project
Co-Existence Projects
Educational Projects
People We Need for these projects
Helping
Ways to fundraise
Shop
donations
business co-operation
Goals
Connecting People together
unity
World Peace
Stopping wars
Love
Site
Forum
Design Forum
Add Categorys
Promote the site
Link Exchange
Social Networks, Twitter, Someone to update, gil will bring me one, Facebook, LinkedIn
gallery
Videos, Edit Existing videos
party's, video, pictures, music
Pictures, Find good pictures, Festivals, Arak, purim, global unity, bloom party
Design
Rotating pictures, Banner, in-site pics
Sponsor Logo place
Content
Activities, Add new
Rewrite all Content, Translate, Translate to Hebrew
Add Schedule, Events, Festivals, Party's, Eco, Co-Existence, Social, Weekends, The walk 2009, Poll
Add music player
Add video player
Shop
Information
Flights
Zimmers
Weather
Visa
Israel's Trail
What to bring
Links, backpackers in israel, guesthouse
Support
Volunteering, Add form, Ways to volunteer, Mastering the web site, Travel Guides, Forum Operators, Hosting people
Donations, click&pladge, litrom
Membership
About
How it started
Who are we
Goals
People I need for the site, Forum Manager, Add Categorys, Operate forum, Designers, Widget to put on any site, Banners for websites, Web Master, Add modules in joomla, HTML knowledge, CSS, Google maps, Translate to english, Update events, Update sleeping locations, Content manager, Add content from Content Writer, Translations, Need to see what translations needed, Get translated content, Content Writer, Someone that will write and update content and work with our content manager, Computer Geeks, I need help!!!!, I'm the only computer geek here, nobody know here what is twitter, If you help u will learn a lot in this project, I will help in anything, please help, Thanks, Love u all, Internet Promotion, Link Exchange, Promote site in forums, SEO, Create articles for keywords/people we want to attract, bycicles, Backpackers, Festivals, Israel Tourism, events march, peace israel, rainbow, party, Ecology, Social Networks, Facebook, Twitter, Update daily status, more..