STUDENTS' PORTFOLIOS IN ENGLISH CLASSES
by Alpha Ponce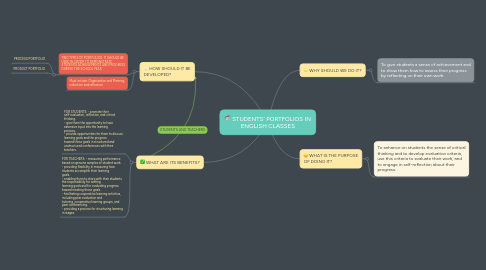 1. WHY SHOULD WE DO IT?
1.1. To give students a sense of achievement and to show them how to assess their progress by reflecting on their own work.
2. WHAT IS THE PURPOSE OF DOING IT?
2.1. To enhance on students the sense of critical thinking and to develop evaluation criteria, use this criteria to evaluate their work, and to engage in self-reflection about their progress.
3. HOW SHOULD IT BE DEVELOPED?
3.1. TWO TYPES OF PORTFOLIOS: IT SHOULD BE USED IN ORDER TO DEMONSTRATE STUDENTS ACHIEVEMENTS AND PROGRESS DURING THE SCHOOL YEAR.
3.1.1. PROCESS PORTFOLIO
3.1.2. PRODUCT PORTFOLIO
3.2. Must include: Organization and Planning, collection and reflection
4. WHAT ARE ITS BENEFITS?
4.1. FOR STUDENTS: - promote their self-evaluation, reflection, and critical thinking. - give them the opportunity to have extensive input into the learning process. - provide opportunities for them to discuss learning goals and the progress toward those goals in structured and unstructured conferences with their teachers.
4.2. FOR TEACHERS: - measuring performance based on genuine samples of student work. - providing flexibility in measuring how students accomplish their learning goals. - enabling them to share with their students the responsibility for setting learning goals and for evaluating progress toward meeting those goals. - facilitating cooperative learning activities, including peer evaluation and tutoring, cooperative learning groups, and peer conferencing. - providing a process for structuring learning in stages.