TOMATO GRAFTING
by Andrea Suazo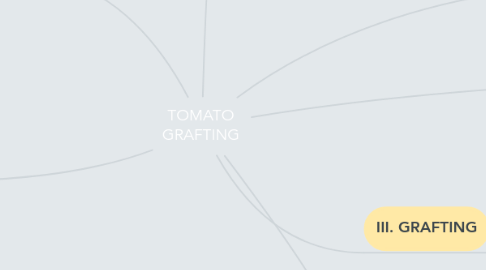 1. Raise healthy scion and rootstock plants.
2. Cut the rootstock at the stem at a deep angle.
3. II. PRE-GRAFT
3.1. Seed germination.
3.2. Manipulate temperature, light intensity, and water and fertilizer application rates.
4. III. GRAFTING
4.1. Step 1: Cut the Rootstock Stem
4.1.1. Cut the rootstock either above or below the cotyledons.
4.2. Step 2: Place a Grafting Clip on the Rootstock
4.2.1. Place a grafting clip halfway over the cut stem.
4.2.2. Cut the scion stem at the same angle as the rootstock.
4.3. Step 3: Cut the Scion Stem
4.4. Step 4: Insert Scion Stem into Grafting Clip
4.4.1. The cut surfaces of the rootstock and scion are oriented correctly and in full contact with each other.
5. IV. POST-GRAFT PLANT HEALING
5.1. Environment and acclimation process.
5.2. Place grafted plants in a new environment.
5.2.1. Humidity between 85 and 95% and temperature between 72°F and 85°F (48-72 hours)
6. I. INTRODUCTION
6.1. Control soilborne diseases
6.2. Improve crop yield.
6.3. Limitations
7. V. CONCLUSION