Mechanical threat that happen in Ontario in these days
by navpreet kaur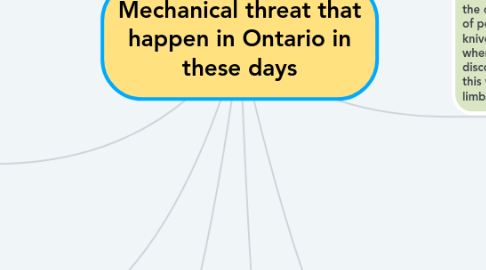 1. Cutting:-This is mostly happen at the organizations where majority of people working.Sometimes knives may close to those object where power has been disconnected and the result of this will cut employers limbs,hands and feet.
2. Hazards:-It is the agent which cause number of harms at workplace to those individuals who are working and also on surrounding.Nowadays,there are number of useful measure that protect us from workplace injuries.
3. 2.Keep work organizations hygienic - This is the easiest and best method to protect us at workplace from any harms.If your working area is warehouse and so on ,keeping the environment clean and well-maintained.So we will reduce the chances of accidents on workplace.
4. 1.Provide proper education of machinery - Companies should provide appropriate education of their employers what is the good way of using goods,machinery at working place.They also need to provide gloves , goggles , safety shoes and some others safety objects that may diminish the accidents at factories in these days.
5. OHS-Canada's Occupation Health ans Safety Magazines:-On February 13,2019 Head wounds injuries suffered in explosion at Alberta wood pellet plant.After an explosion on industrial wood pellet plant , there were three individuals who are injured taken about 100 kilometers west of Edmonton.Parkland country officials say numbers of emergency vehicles were sent to the Pinnacle Renewable energy plant around 2:30 p.m. Monday.
6. A woman who works at plant gives all the information to CTV News that her son , who is also works there , was helping the remaining employees put out a fire when his mother heard a blast .She said that both workers suffered from injuries, but her son was aware and inhaling when his son was airlifted to Edmonton.Country fire Chief Brain Cornforth said that there was no current indication of what is happen in the explosion.