Pizza Hut
by Eric Ordoñez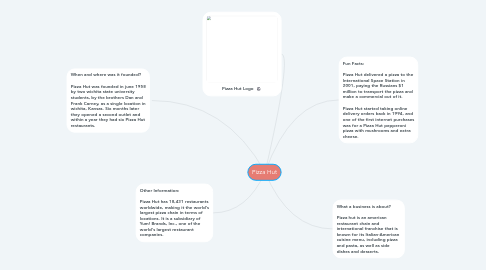 1. When and where was it founded? Pizza Hut was founded in june 1958 by two wichita state university students, by the brothers Dan and Frank Carney, as a single location in wichita, Kansas. Six months later they opened a second outlet and within a year they had six Pizza Hut restaurants.
2. What a business is about? Pizza hut is an american restaurant chain and international franchise that is known for its Italian-American cuisine menu, including pizza and pasta, as well as side dishes and desserts.
3. Fun Facts: Pizza Hut delivered a pizza to the International Space Station in 2001, paying the Russians $1 million to transport the pizza and make a commercial out of it. Pizza Hut started taking online delivery orders back in 1994, and one of the first internet purchases was for a Pizza Hut pepperoni pizza with mushrooms and extra cheese.
4. Other Information: Pizza Hut has 18,431 restaurants worldwide, making it the world's largest pizza chain in terms of locations. It is a subsidiary of Yum! Brands, Inc., one of the world's largest restaurant companies.
5. Pizza Hut Logo