Classroom Environment: It encompasses a broad range of educational concepts, including the physical setting, the psychological environment created through social contexts, and numerous instructional components related to teacher characteristics and behaviors.
by Kenneth Bolaños CR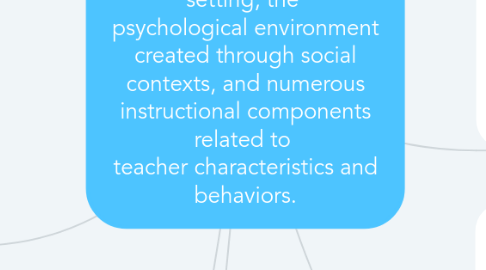 1. -The Physical Environment: The physical environment has continued to appear in contemporary studies as an influence on behavioral and academic outcomes. Current studies of the physical environment have investigated aspects such as class composition, class size, and classroom management.
2. - Classroom Climate: Part of the larger focus on school improvement is School Climate or Educational Climate, which defines howteachers interact with each other and with administrators. This is different from Classroom Climate, which identifies relationships among students with each other, the teacher and how this translates into learning.
3. - The Psychological Environment Beyond the physical arrangement of a classroom a psychological environment is also created, based on the interaction of key players in the classroom, namely students and teachers. Research in this area has varied greatly and proliferated during the early twenty-first century. Studies have been particularly concentrated on student class participation rates, teacher support, and communication of learning goals.
4. - The Role of the Teacher in the Classroom Environment: The third focus of many examinations of classroom environment has been on teacher behaviors, specifically teacher development and school culture and how these components affect classroom environment. Some research suggests that due to the complexity of cultivating an effective classroom environment, it may be beyond the developmental scope of the newly graduated teacher. Some researchers recommend that professional development for new teachers should include intense mentoring and teaching partnerships that reduce isolation and form productive and meaningful relationships with other adults in the school community.
5. - Measuring Classroom Environment: In studies of classroom environment a plethora of measurement tools have been employed, including direct, objective observational measures as well as more subjective perceptions of the classroom environment. The types of items that have been used range from low inference (e.g., frequency counts of behavior) to high inference (e.g., classroom members' perceptions about meaning of behaviors)