NOMAD AND SEDENTARY
by Catalina Guevara Catalán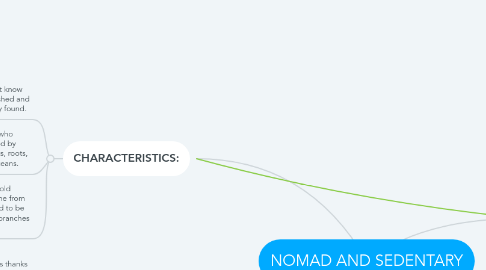 1. NOMAD:
1.1. Individual or group that moves continuously. He doesn't live all year round in the same place. They tour certain places already known
2. SEDENTARY:
2.1. It is a way of living of groups of people who settle in a place permanently and develop their life linked to the same habitat.
3. CHARACTERISTICS:
3.1. 1. The nomads did not know agriculture, hunted, fished and ate from the fruits they found.
3.2. 2- They were gatherers who collect the fruits provided by nature, such as wild fruits, roots, larvae, eggs and crustaceans.
3.3. 3- They took refuge in caves in cold weather or transported their home from one place to another, so they had to be very light, they were made with branches and animal skins.
4. CHARACTERISTICS:
4.1. 1. This type of life arises thanks to the discovery of agriculture.
4.2. 2. - Their homes were made of solid material, such as mud or straw and were grouped in small villages in small places.
4.3. 3. They were installed in fertile plains, close to water supplies, as they had to take care of animals, plantations and crops.