IMPROVE CURRICULUM, ASSESSMENT, AND INSTRUCTION USING THE UNDERSTANDING
by Mauro Gaston Hernandez Vanoli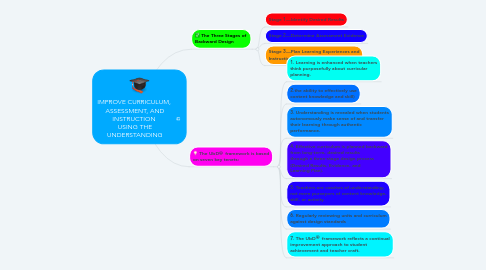 1. The Three Stages of Backward Design
1.1. Stage 1—Identify Desired Results
1.2. Stage 2—Determine Assessment Evidence
1.3. Stage 3—Plan Learning Experiences and Instruction
2. The UbD® framework is based on seven key tenets:
2.1. 1. Learning is enhanced when teachers think purposefully about curricular planning.
2.2. 2.the ability to effectively use content knowledge and skill)
2.3. 3. Understanding is revealed when students autonomously make sense of and transfer their learning through authentic performance.
2.4. 4. Effective curriculum is planned backward from long-term, desired results through a three-stage design process (Desired Results, Evidence, and Learning Plan).
2.5. 5. Teachers are coaches of understanding, not mere purveyors of content knowledge, skill, or activity.
2.6. 6. Regularly reviewing units and curriculum against design standards
2.7. 7. The UbD® framework reflects a continual improvement approach to student achievement and teacher craft.