Digital Citizenship & Digital Safety
by Alyssa Hagen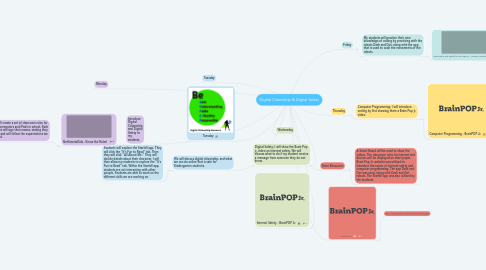 1. BrainPOP Jr.
1.1. https://www.starfall.com/h/index-kindergarten.php
2. We will discuss digital citizenship, and what we can do online that is safe for Kindergarten students.
2.1. Students will explore the Starfall app. They will click the "It's Fun to Read" tab. Then they will click "All About Me." They will decide details about their character. I will then allow my students to explore the "It's Fun to Read" tab. Within the Starfall app, students are not interacting with other people. Students are able to work on the different skills we are working on.
3. Introduce Digital Citizenship and Digital Safety to my students.
3.1. NetSmartzKids - Know the Rules!
3.1.1. We will create a set of classroom rules for using computers and iPads in school. Each student will sign their names, stating they agree and will follow the expectations we created.
4. Digital Safety: I will show the Brain Pop jr. video on internet safety. We will discuss what to do if my student receive a message from someone they do not know.
5. Internet Safety - BrainPOP Jr.
6. Monday
7. Tuesday
8. Wednesday
9. Thursday
9.1. Computer Programming: I will introduce coding by first showing them a Brain Pop jr. video.
9.1.1. Computer Programming - BrainPOP Jr.
10. Friday
10.1. My students will practice their new knowledge of coding by practicing with the robots Dash and Dot, along with the app that is used to code the movements of the robots.
10.1.1. Meet Dash & Dot Robots for kids ages 6+ | Wonder Workshop
11. Extra Resources
11.1. A Smart Board will be used to show the videos. The classroom rules for internet and devices will be displayed on chart paper. Brain Pop Jr. website was utilized to introduce the topics of internet safety and computer programming. The app Dash and Dot was used, along with Dash and Dot robots. The Starfall app was also utilized by the students.
12. Tuesday