Start
by Влад Каснер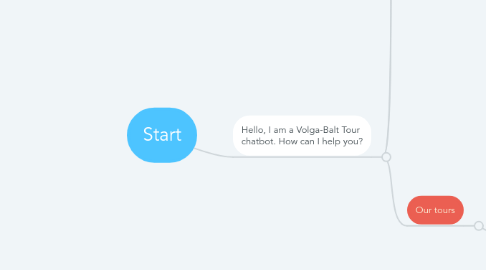 1. Hello, I am a Volga-Balt Tour chatbot. How can I help you?
1.1. About us
1.1.1. VolgaBalt is a young Moscow-based travel company created by the people passionate about travel and eager to connect you with the grandeur of Russian culture and nature. Our team is ready to share their expertise and experience with those who want to see Russia as it is.
1.1.1.1. Go to website
1.1.1.2. Terms of cooperation
1.1.1.3. Our tours
1.2. Terms of cooperation
1.2.1. Write your contacts and we will contact you to clarify the terms of cooperation.
1.2.1.1. Back
1.3. Our tours
1.3.1. We have more than 40 tours of various subjects. Choose your interest.
1.3.1.1. River cruises
1.3.1.1.1. Mtsensk bike tour 2019—2020
1.3.1.1.2. Activity tour around Mount Elbrus
1.3.1.1.3. Activity tour to Arkhyz
1.3.1.1.4. Active tour around Sochi
1.3.1.1.5. Explore Sochi in 5 days
1.3.1.2. Classical
1.3.1.2.1. Golden Ring tour with the visit to Plyos
1.3.1.2.2. Small Golden Ring tour
1.3.1.2.3. Grand Golden Ring 2020
1.3.1.2.4. Silver Necklace of Russia (Karelia)
1.3.1.2.5. Silver Necklace of Russia
1.3.1.2.6. Moscow — Saint-Petersburg fixed tours 2019
1.3.1.2.7. Saint-Petersburg — Moscow fixed tours 2019
1.3.1.2.8. Weekends in St.Petersburg 2020
1.3.1.2.9. Moscow – St. Petersburg fixed tours 2020
1.3.1.2.10. Kazan fixed tours 2020
1.3.1.3. Thematic
1.3.1.3.1. GASTRONOMIC TOUR (TO LAKE BAIKAL)
1.3.1.3.2. GASTRONOMIC TOUR (AROUND MOSCOW)
1.3.1.3.3. GASTRONOMIC TOUR (CAUCASUS)
1.3.1.3.4. PILGRIMAGE TOUR (MOSCOW REGION)
1.3.1.3.5. THE EMPERORS ROUTE
1.3.1.3.6. IVAN THE TERRIBLE
1.3.1.3.7. 75 YEARS OF GREAT VICTORY
1.3.1.3.8. SILK ROAD (ASTRAKHAN - ELISTA - DAGESTAN)
1.3.1.3.9. SILK ROAD (ASTRAKHAN - ELISTA - VOLGOGRAD)
1.3.1.3.10. MIXTURE OF 4 CULTURES
1.3.1.4. Trans-Siberian
1.3.1.4.1. FROM MOSCOW TO VLADIVOSTOK ON REGULAR TRAINS
1.3.1.5. Expedition
1.3.1.5.1. East Greenland
1.3.1.5.2. Antarctic Peninsula
1.3.1.6. Discovery
1.3.1.6.1. Mtsensk bike tour 2019—2020
1.3.1.6.2. Activity tour around Mount Elbrus
1.3.1.6.3. Activity tour to Arkhyz
1.3.1.6.4. Active tour around Sochi
1.3.1.6.5. Explore Sochi in 5 days
1.3.1.6.6. Baikal Land Tour
1.3.1.6.7. Great Sayan Ring
1.3.1.6.8. Kamchatka. The land of bears and volcanoes
1.3.1.6.9. Active winter in Karelia
1.3.1.6.10. Active winter in Karelia