MEDIA AND INFORMATION SOURCES
by Jerahmeel Cuadra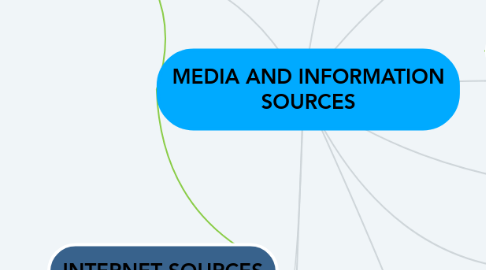 1. EVALUATING INFORMATION FOUND ON THE INTERNET:
1.1. -Authorship -Publishing body -Accuracy and Verifiability -Currency
1.2. Things to Consider in Evaluating Information:
1.2.1. -Reliability -Accuracy -Value -Authority -Timeliness
1.2.1.1. RELIABILITY INFORMATION-Information is said to be reliable if it can be verified and evaluated. Others refer to the trustworthiness of the source in evaluating the reliability of information.
1.2.1.2. ACCURACY OF INFORMATION- Accuracy refers to the closeness of the report to the actual data. Measurement of accuracy varies, depending on the type of information being evaluated.
1.2.1.2.1. VALUE OF INFORMATION- Information is said to be of value if it aids the user in making or improving decisions.
1.2.1.3. AUTHORITY OF THE SOURCE -Who authored or published the information? - Is the source credible?
1.2.2. TIMELINESS RELIABILITY-accuracy, and value of information may vary based on the time it was produced or acquired. It may become irrelevant and inaccurate with the passing of time (thus making it less valuable)
2. a global computer network providing a variety of information and communication facilities, consisting of interconnected networks using standardized communication protocols.
3. CHARACTERISTICS:
3.1. - Oral tradition of communication
3.2. -Store information in memories
3.3. -Information exchange is face- to-face
3.4. -Information are contain within the border of community
4. Independent from vested interest groups
5. Owned , Controlled and Manage by Indigenous peoples
6. Knowledge that is unique to a given culture or society
7. INDIGENOUS SOURCES
7.1. Langauge's understood by the Community
8. LIBRARY SOURCES
8.1. 4 MAJOR TYPES OF LIBRARIES
8.1.1. SCHOOL LIBRARY- serves students from kindergarten to 12
8.1.2. PUBLIC LIBRARY- serves cities and towns of all types
8.1.3. ACADEMIC LIBRARY- serves colleges and universities
8.1.4. SPECIAL LIBRARY- are in specialized environments, such as hospitals, corporation, private business and the government
8.2. a place in which literary, musical, artistic,or reference materials (such as books, manuscripts, recordings, or films) are kept for use but not for sale
9. INTERNET SOURCES