FUTURE
by Danny Gocha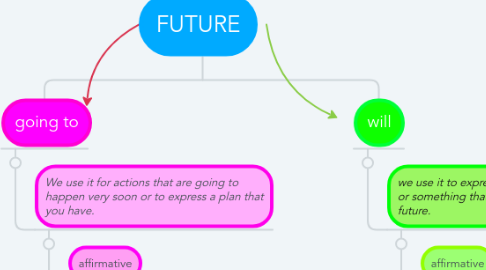 1. going to
1.1. We use it for actions that are going to happen very soon or to express a plan that you have.
1.1.1. affirmative
1.1.1.1. 1- I am going to pay in cash 2- We are going to see us tomorrow 3-They are going to visit Paris the next summer 4-He is going to study for be a doctor 5-Taylor is going to learn French
1.1.2. negative
1.1.2.1. 1- Carlos is not going to move to the city 2- You are not going to go to the bar 3- You are not going to do it 4- I am not going to sleep all day 5- Oddie is not going to spend the night at your house
1.1.3. interrogative
1.1.3.1. 1-Am I going to kiss him? 2-Are you going to travel the next month? 3-Are they going to build a new house? 4-Are we going to buy a new car? 5- Is she going to adopt a pet?
2. will
2.1. we use it to express a promise, a prediction or something that you want to do in the future.
2.1.1. affirmative
2.1.1.1. 1- I will work really hard 2- She will try to be a good student 3-We will be old friends 4- You will enojoy the class 5- They will play tennis together
2.1.2. negative
2.1.2.1. 1- He won´t wake up early 2- She won´t like the news 3- They will not be friends 4- It won´t rain today 5- Israel won´t want study with you
2.1.3. interrogative
2.1.3.1. 1. Will you wish visit Italy? 2- Will the bus stop here? 3- Will we come to class late? 4- Will he attend the church ? 5- Will I arrive on time?