TERMINOLOGIES AND CONCEPT IN TOURISM AND HOSPITALITY INDUSTRY
by Aiena Rosdi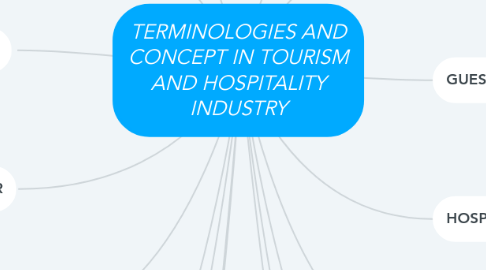 1. TOURISM
1.1. TOURISM IS TRAVEL FOR RECREATIONAL LEISURE,OR BUSINESS PURPOSE.
2. INTERNATIONAL TOURISM
2.1. REFERS TO TOURISM THAT CROSSES BOARDERS.GLOBALIZATION HAS MADE TOUTISM A POPULAR GLOBAL LEISURE ACTIVITY.
3. DOMESTIC TOURISM
3.1. TOURISM INVOLVING RESIDENTS OF ONE COUNTRY TRAVELLING ONLY WITHIN THAT COUNTRY.
4. BACKPAKER
4.1. A PERSON WHO TRAVELS HIKES CARRYING THEIR BELOGINGS IN A RUCKSACK.
5. TRAVELER
5.1. A PERSON WHO TRAVELS FOR PLEASURE,USUALLY SIGHTSEEING AND STAYIG IN HOTELS.
6. GUEST
6.1. A PERSON ENTERTAINT BY ANOTHER ACTING AS HOST AT A RESTAURANT.
7. VISITOR
7.1. A PERSON VSITING SOMEONE OR SOMEWHERE, ESPECIALLY OR AS A TOURIST.
8. HOSPITALITY
8.1. REFERS TO THE RELATIONSHIP BETWEEN A GUEST AND A HOST,WHEREIN THE HOST RECEIVES TH GUEST WITH GOODWILL,INCLUDING THE RECEPTION AND ENTERTAIMENT OF GUEST,VISITORS OR STRANGERS.
9. TOURIST
9.1. IS A PERSON WHO IS VISITING A PLACE FOR LEISURE AND INTEREST ESPECIALLY WHEN THEY ARE ON HOLIDAY.
10. TOURISM INDUSTRY
10.1. IS DEFINED AND UNDERSTOOD AS ACTIVITY OF TRAVELLING AND TOURING.
11. TRAVEL AGENT
11.1. IS A PERSON WHOSE JOB IT ID TO ARRANGE TRAVEL FOR END CLIENTS(INDIVIDUALS,GROUPS,COTORATIONS) ON BEHALF OF SUPPLIERS (HOTELS,AIRLI NES,CAR RENTALS,CRUISELINES,RAILWAYS,TRAVEL AND INSURRANCE PACKAGE TOURS.
12. OUTBOUND TOURISM
12.1. TOURISM OF RESIDENT VISITORS OUTSIDE THE ECONOMICS FERRITORY OF THE COUNTRY OF REFFERENCE.
13. INBOUND TOURISM
13.1. IS THE ACTIVITIES OF THE VISITORS TRAVELLING TO A PLACE OUTSIDE HIS USUAL ENVIRONMENT FOR OT MORE THAN ONE CONSECUTIVE YEAR AND NOT LESS THAN 24 HOURS.
14. TRAVEL
14.1. IS THE MOVEMENTS OF PEOPLE BETWEEN DISTANCE GEOGRAPHICAL LOCATIONS.TRAVEL CAN BE DONE BY FOOT,BICYCLE,AUTOMOBILE,TRAIN,BOAT,BUS,AIRPLANE OR SHIP WITH OR WITHOUT LUGGAGE AND CAN BE ONE WAY OR ROUND TRIP.
15. EXCOURSIONIST
15.1. THE DEFINISION OF AN EXCOURSIONIST IS A TOURIST OR TRAVELLER AN EXAMPLE OF AN EXCOURSIONIST IS SOMEONE TAKING A TOUR OF EUROPE.
16. ALLOCENTRIC
16.1. IS A COLLECTIVISTIC PERSONALITY ATTRIBUTE WHEREBY PEOPLE CENTER THEIR ATTENTION AND ACTIONS ON OTHER PEOPLE RATHER THAN THEMSELVES.IT IS PSYCHOLOGICAL DIMENSION WHICH CORRESPOND TO THE GENERAL CULTURAL DIMNSION OF COLLECTIVISM.
17. HOSPITALITY INDUSTRY
17.1. HOSPITALITY INDUSTRY IA BROAD CATEGORY OF FIELDS WITHIN TH SERVICE INDUSTRY THAT INCLUDES LOGGING,FOOD AND DRINK SERVICE,EVENT PLANNING THEME PARKS TRANSPORTATION,TOURIST LINE AND ADDITIONAL FIELDS WITHIN THE TOURISM INDUSTRY.