Gobierno de IT
by Alfonso estrada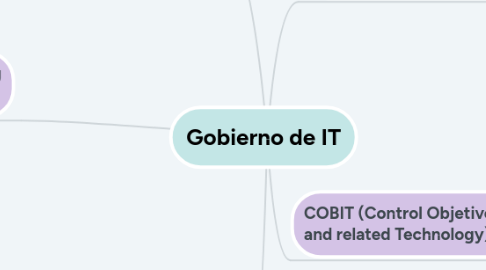 1. ITIL (Information Technology Infrastructure Library)
1.1. Adminsitración de servicios de IT
1.2. Alinear necesidades con los servicios
1.3. Mejorar los servicios
1.4. Reducir los costos
2. COBIT (Control Objetives for Information and related Technology)
2.1. Satisfacer las necesidades de las partes.
2.2. Orientación a negocio.
2.3. Enfoque global para una gestión y manejo de IT con eficiencia y eficacia.
2.4. Separar el gobierno de la administración.
3. PMBOK (Project Management Institute)
3.1. Aplicación de conocimiento, procesos, habilidades, herramientas y técnicas para el éxito de un proyecto.
3.2. Orienado a procesos.
3.3. Estandar internacional.
3.4. Define para cada proceso insumos, herramientas y entregables.
3.5. Complejo para proyectos de pequeño escala.
4. COSO (Committe of Sponsoring Organizations of the Treadway)
4.1. Promueve la gestión de riesgos.
4.2. Ayuda a la optimización de recursos en términos de rentabilidad.
4.3. Mejora la comunicación en la organización.
4.4. Control interno de la organización.
5. TOGAF (The Open Group Architecture Frmework)
5.1. Arquietectura de negocios.
5.2. Arquitectura de aplicaciones
5.3. Arquitectura de datos.
5.4. Arquitectura de tecnología.