First person informed of crisis reports to COO, who then informs CMT of the crisis so they may initiate the plan to inform the rest of the organization
by Jamie Novak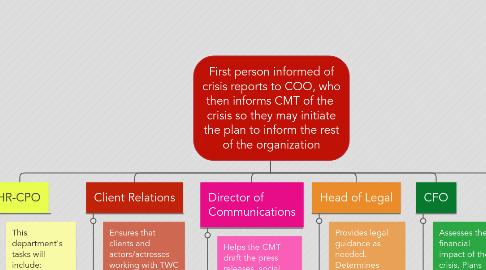 1. HR-CPO
1.1. This department's tasks will include: providing answer to employee questions about their positions and circumstances. It will direct employees to counseling and other available resources
1.1.1. HR Manager
1.1.2. Employees
2. Director of Communications
2.1. Helps the CMT draft the press releases, social media posts and responses to inquiries from the media, employees, and members of the public. The Director of Communications then acts as the spokesperson to deliver the message as needed.
2.1.1. Employees
2.1.2. Press/Public
3. CFO
3.1. Assesses the financial impact of the crisis. Plans budget allocation to provide funds as the crisis is being resolved.
3.1.1. Head of Finance
3.1.2. Employees
4. Client Relations
4.1. Ensures that clients and actors/actresses working with TWC are informed of the situation as well as actions being taken to resolve the crisis.
4.1.1. TWC Employees
4.1.2. TWC Clients and Talent
5. Head of Legal
5.1. Provides legal guidance as needed. Determines potential legal consequences of the crisis. Approves written releases to employees and the public.
5.1.1. Legal Ops Manager
5.1.2. Employees
6. CTO
6.1. Focuses on the technology components of the crisis-safeguards intellectual property and customer data.
6.1.1. IT & Web Manager
6.1.2. Employees