SURROGATE SEARCH ENGINES
by migo sulit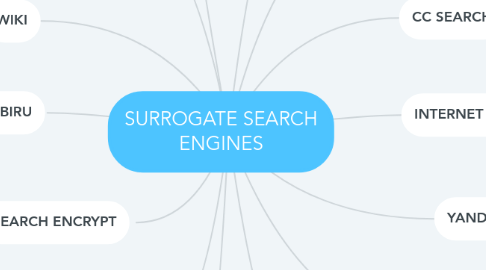 1. BING
1.1. Brief simple descriptions
1.2. Fancy background images slow loading
2. QUORA
2.1. People are treated with respect
2.2. None, unless you are a person who want to have free reign with abusive, harassing content
3. DUCKDUCKGO
3.1. Doesn't collect or store any of your personal information.
3.2. Private personal information
4. WIKI
4.1. Thousands of wikis on the net
4.2. Community-led information
5. TWITTER
5.1. It's the perfect place to go for minute by minute updates in the case of an emergency
5.2. Nothing beats a Tweet in the heat of the moment
6. CC SEARCH
6.1. Perfect if you need music for a video
6.2. The way CC Search works is simple
7. GIBIRU
7.1. Doesn't install tracking cookies on your computer
7.2. Faster than "NSA Search Engines."
8. INTERNET ARCHIVE
8.1. A vast online library where you can access just about anything you could imagine
8.2. Is great for researching old websites, but it's so much more.
9. SEARCH ENCRYPT
9.1. One of the best parts of Search Encrypt is that your search terms will eventually expire
9.2. It uses a combination of encryption methods that include Secure Sockets Layer encryption
10. YANDEX
10.1. It offers a suite of some pretty cool tools.
10.2. You can search for your personal files right from the search bar of the search engine
11. STARTPAGE
11.1. Includes a URL generator, a proxy service, and HTTPS support
11.2. Eliminates the need to collect cookies. Instead, it remembers your settings in a way that promotes privacy
12. SWISSCOWS
12.1. One of the more unique options on this list, billing itself as a family-friendly semantic search engine
12.2. It uses artificial intelligence to determine the context of a user's query
13. BOARDREADER
13.1. If you're interested in finding a forum or message board about a specific subject, Boardreader should be the first place you turn to
13.2. You should be able to find the forum you want with just a few keystrokes
14. ECOSIA
14.1. Environmentally friendly search engine
14.2. Uses the revenues generated from search engine queries to plant trees