Not being able to deal with the volume of customer complaints within the SLA's.
by Robert Chard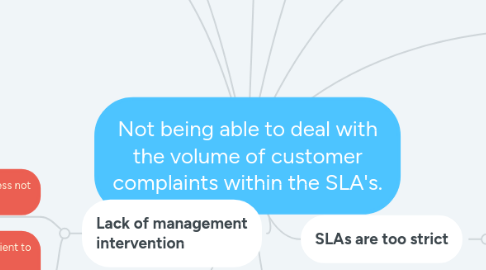 1. Customers chasing complaints - leading to further dissatisfaction.
2. Paying out more in compensation
3. Failure to meet SLAs
4. Ever increasing workload for complaints agents.
5. Root cause analysis not being completed due to workload for completing complaints process.
6. Volume of complaints reaching the regulator.
7. Lack of management intervention
7.1. Standard complaints process not being followed.
7.1.1. insufficient training for new starters
7.2. Staffing levels not sufficient to deal with the volume of complaints
7.2.1. No replacements for long term sickness
7.2.2. No recruitment for leavers
8. SLAs are too strict
8.1. SLAs set based on criteria from 10 years ago.
8.1.1. No reviews of SLA have been completed
8.1.1.1. Person who has reviewed the SLAs left the business but not been replaced.
9. Technical issue with the product causing the number of complaints to rise year on year.
9.1. Expectation of the product is not comparable to others on the market
10. Continual system failures
10.1. Database system is out of date
10.1.1. Funding for a new system