I wish that more parents were accessing and utilizing their school's LMS at home.
by Theresa Mun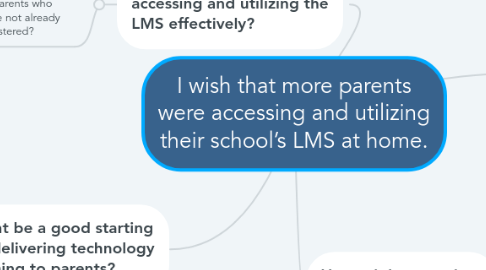 1. How to train parents on accessing and utilizing the LMS effectively?
1.1. How might we introduce the LMS to parents who have not already registered?
1.1.1. How might we gain parent buy-in/interest?
1.1.1.1. What might be keeping parents from accessing/utilizing it?
2. How might we gain faculty/administrative support for this initiative?
2.1. How might we encourage faculty members who are familiar with the LMS to get involved?
3. What might be a good starting point for delivering technology (LMS) training to parents?
3.1. How might we address problems of access to technology?
3.1.1. How might we reach parents with different levels of technology skill?
4. How can we encourage parents to get involved/stay connected through the LMS?