Miss Howe's Mind Map
by Summer Howe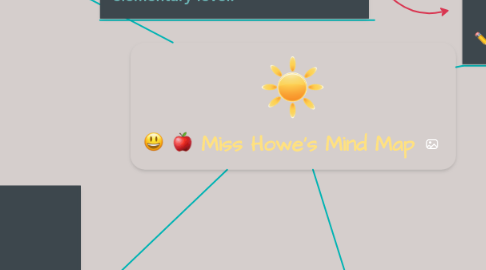 1. Tools for Writing
2. Tools for Calculating
3. Tools for Organizing
4. Tools for Networking
4.1. Twitter: social network tool that connects me to other educators around the world.
5. Glogster: an interactive poster creation for an engaging activity.
6. ClassDojo: communication tool to connect myself with parents and build a better classroom community.
7. Online Stopwatch: helps myself and students stay on track for any timed activity.
8. Grammarly: tool to help students write and peer edit properly.
9. Google Calendar: tool to keep me updated on what's ahead.
10. Gmail: easy way to email and communicate with other educators.
11. Flickr: image storage tool that lets students or myself share experiences through photos.
12. FunBrain: interactive games for first grade students.
13. Math Playground: teaching first grade math through interactive games.
14. Pinterest: networking tool that allows me to share and pin items I am looking for.
15. Google Docs: create documents like lesson plans for myself or to share with my team.
16. LinkedIn: networking tool to meet others in the same fields of interest.
17. PBS Learning Media: videos, games, lessons that are elementary level.
18. Wikipedia: informational source for research.
19. Teachers Pay Teachers: resources I can collect or share with other educators.