o What methods or strategies can I use to ensure a mutually respectable relationship between me and those I become a leader to over time?
by eric williams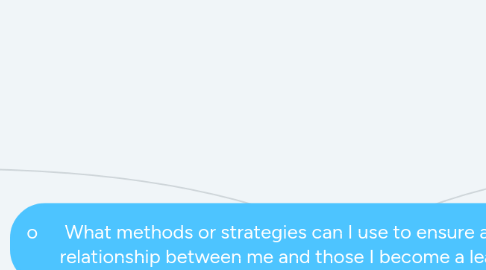 1. Boundaries
1.1. Keep a healthy distance professional
1.2. differentiate between personal and professional
1.3. be clear on where the line is drawn and never cross it.
2. Respect
2.1. Regardless of position show the same respect you would want in return.
2.2. Remember that you were once them
2.3. NEVER! let your personal friendships or relationships determine or interfere with your professional one.
3. Collaboration
3.1. As a leader work with your team to create an environment of working together.
3.2. Understand and utilize the strengths and weakness of myself and those around me
3.3. Think of ways that I myself and those under me can still find common ground
4. Communicate
4.1. Clearly communicate expectations
4.2. Talk and discuss openly any problems or issues immediately as they occur.
4.3. Be open to listening to those under me just as much as I would expect them to listen to me