ERIN AND TONK TO THE RESCUE
by Vale Laverde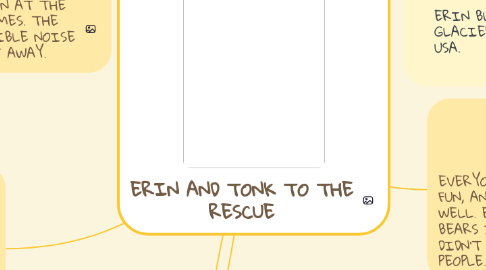 1. ERIN BLOSTER WAS A GUIDE IN GLACIER PARK IN MONTANA, USA.
2. EVERYONE WAS READY TO HAVE FUN, AND THE RIDE STARTED WELL. ERIN KNEW THERE WERE BEARS IN THE WOODS BUT THEY DIDN'T USUALLY GO NEAR PEOPLE.
2.1. It was very near to an 80 years old boy who was on his horse.
3. HE DIDN'T WANT TO MOVE. BUT ERIN NEEDED TO HELP THE BOYS. SHE GAVE TONK A KICK AND THEY WENT AFTER THE BEAR.
4. She found the bear near the boy and his horse
5. THEN THE BOY FELL OF THE HORSE AND THE BEAR STARTED TO GO TOWARDS HIM.
5.1. Erin put tonk between the bear and the boy.
6. TOGETHER THEY RAN AT THE BEAR AN THREE TIMES. THE BEAR MADE A TERRIBLE NOISE BUT THEN IT WENT AWAY.
6.1. Erin picked the boyup and took him back to his father and the others riders.