Provide professional development for teachers in small groups, using multiple presenters on a rotating basis that shares the best possible technologies so students can take advantage of using them. These sessions can also be asynchronous depending on teacher needs.
by Bill Burnside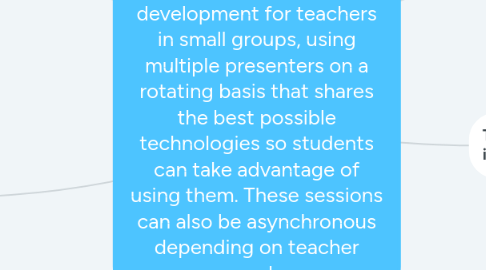 1. Teachers use these groups for support throughout the week.
1.1. Provides better team building
1.2. Build a foundation for collaboration
2. Teachers are able to go through PD at their own pace
2.1. Teachers are more willing to take other PD
3. Tailored to fit teachers' interests/needs
3.1. Teachers will feel more comfortable in trying a new tools
3.1.1. More comfortable in other aspects of teaching
4. Teachers learn practical ways to implement technology.
4.1. Teachers get excited about new technology
4.1.1. Students get excited about new technology.
5. Will take time to plan individualized sessions
5.1. Teachers may not buy in