GATHERING NETWORK AND HOST INFORMATION
by Chau SeowYue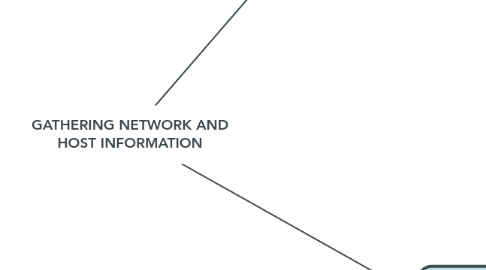 1. Null sessions
1.1. an anonymous connection to an inter-process communication network service
1.2. an anonymous connection to an inter-process communication network service
2. Types of scanning
2.1. a. Port scanning
2.1.1. act of systematically scanning a computer's ports.
2.1.2. refers to the surveillance of computer ports, most often by hackers for malicious purposes.
2.1.3. also considered an open-door hacking technique.
2.1.4. Nmap Online Port Scanner
2.2. b. Network scanning
2.2.1. the use of a computer network to gather information regarding computing systems.
2.2.2. mainly used for security assessment, system maintenance, and also for performing attacks by hackers.
2.2.3. is designed to locate all the live hosts on a network
2.3. c. Vulnerability scanning
2.3.1. is designed to locate all the live hosts on a network
2.3.2. quite commonly done as a proactive measure with the goal of catching problems internally before an attacker is able to locate those same vulnerabilities and act on them