DIY IMPROVEMENTS
by Kaung Myat Xiaolong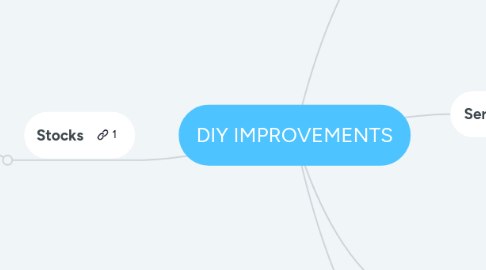 1. Staff Influence
1.1. Promoting Items
1.1.1. Increases Sales by 5~10%
1.2. Friendliness+Helpful
1.2.1. Encourages Customers to come back
1.3. Knowledge
1.3.1. Affirm & Convince Customers
2. Services
2.1. Plumbing & Lighting
2.1.1. By going down to fix their items, ur staff has a sideline of income. Also highly encourages customers to purchase (more likely than paint).
2.1.1.1. Hence, this service is necessary.
2.2. Painting
2.2.1. By introducing a painter , shop does not profit. This is because customers will still buy paint. One in a thousand will not buy just for that reason.
2.2.1.1. Hence, effect is negligible.
2.3. Key Duplications
2.3.1. SMALL STEPS : Without buying another key machine, if we can tend to more types of keys, I think we are able to gain $100 more per month
2.4. Troubleshooting
2.4.1. Customer Presents problem, Staff is able to solve it by encouraging customer to purchase items
2.4.1.1. Pros : Sell more Items in the shop
2.4.1.2. Cons : Shop must have the various items needed
3. Stocks
3.1. Variations
3.1.1. The Variations of Stocks is very important in Increasing Sales. Today, we can only satisfy 60% of the people that walk in. If we can increase variation, we have the items they need, more customers will buy, the sales will increase. Leave 20% of unsatisfiable customers, we should be able to increase the percentage to 80%. This is the key in increasing sales to 3k per day. This is able to increase gross profit by 8k a month.
3.1.1.1. So where do we get started ? What are items people need that we do not have at the moment and is realistic to have it ? What are some items that are stagnant ?
3.1.1.1.1. Automotive
3.1.1.1.2. Hand Tools
3.1.1.1.3. Household
3.1.1.1.4. Locks
3.1.1.1.5. Spare Tools
4. Storage Space
4.1. Perhaps Arrangement of Items can be reset. At the same time, reduce unnecessary items (esp items from home fix on consignments) sitting ducks.
5. Advertisement
5.1. No point as items are expensive and shop is small, little items, people in neighbourhood already know of.