[Intro] Nobody pray for me It's been that day for me Waaaaay (Yeah, yeah!) [Verse 1] Ayy, I remember syrup sandwiches and crime allowances Finesse a nigga with some counterfeits, but now I'm countin' this Parmesan where my accountant lives, in fact I'm downin' this D'USSÉ with my boo bae tastes like Kool-Aid for the analysts Girl, I can buy yo' ass the world with my paystub Ooh, that pussy good, won't you sit it on my taste bloods? I get way too petty once you let me do the extras Pull up on your block, then break it down: we playin' Tetris A.M. to the P.M., P.M. to the A.M., funk Piss out your per diem, you just gotta hate 'em, funk If I quit your BM, I still ride Mercedes, funk If I quit this season, I still be the greatest, funk My left stroke just went viral Right stroke put lil' baby in a spiral Soprano C, we like to keep it on a high note It's levels to it, you and I know [Chorus] Bitch, be humble (Hol' up, bitch) Sit down (Hol' up, lil', hol' up, lil' bitch) Be humble (Hol' up, bitch) Sit down (Hol' up, sit down, lil', sit down, lil' bitch) Be humble (Hol' up, hol' up) Bitch, sit down (Hol' up, hol' up, lil' bitch) Be humble (Lil' bitch, hol' up, bitch) Sit down (Hol' up, hol' up, hol' up, hol' up) Be humble (Hol' up, hol' up) Sit down (Hol' up, hol' up, lil', hol' up, lil' bitch) Be humble (Hol' up, bitch) Sit down (Hol' up, sit down, lil', sit down, lil' bitch) Be humble (Hol' up, hol' up) Bitch, sit down (Hol' up, hol' up, lil' bitch) Be humble (Lil' bitch, hol' up, bitch) Sit down (Hol' up, hol' up, hol' up, hol' up) [Verse 2] Who dat nigga thinkin' that he frontin' on Man-Man? (Man-Man) Get the fuck off my stage, I'm the Sandman (Sandman) Get the fuck off my dick, that ain't right I make a play fucking up your whole life I'm so fuckin' sick and tired of the Photoshop Show me somethin' natural like afro on Richard Pryor Show me somethin' natural like ass with some stretch marks Still will take you down right on your mama's couch in Polo socks Ayy, this shit way too crazy, ayy, you do not amaze me, ayy I blew cool from AC, ayy, Obama just paged me, ayy I don't fabricate it, ayy, most of y'all be fakin', ayy I stay modest 'bout it, ayy, she elaborate it, ayy This that Grey Poupon, that Evian, that TED Talk, ayy Watch my soul speak, you let the meds talk, ayy If I kill a nigga, it won't be the alcohol, ayy I'm the realest nigga after all [Chorus] Bitch, be humble (Hol' up, bitch) Sit down (Hol' up, lil', hol' up, lil' bitch) Be humble (Hol' up, bitch) Sit down (Hol' up, sit down, lil', sit down, lil' bitch) Be humble (Hol' up, hol' up) Bitch, sit down (Hol' up, hol' up, lil' bitch) Be humble (Lil' bitch, hol' up, bitch) Sit down (Hol' up, hol' up, hol' up, hol' up) Be humble (Hol' up, hol' up) Sit down (Hol' up, hol' up, lil', hol' up, lil' bitch) Be humble (Hol' up, bitch) Sit down (Hol' up, sit down, lil', sit down, lil' bitch) Be humble (Hol' up, hol' up) Bitch, sit down (Hol' up, hol' up, lil' bitch) Be humble (Lil' bitch, hol' up, bitch) Sit down (Hol' up, hol' up, hol' up, hol' up)
by JOSHUA MARK RAMAN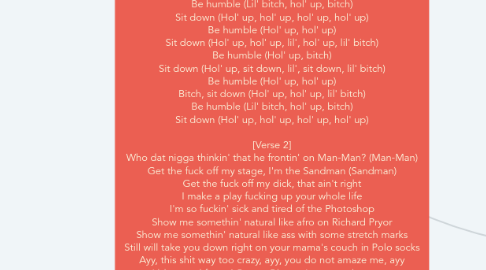 1. Title
1.1. "HUMBLE"
1.1.1. The song refers to a call for black men to give an introspective look at their place and power. He is self aware to the stance of humility he has to face and encourages other men to follow his footsteps. This also includes men staying humble in their relationships with women.
1.1.2. Bitch, be humble (Hol' up, bitch) Sit down (Hol' up, lil', hol' up, lil' bitch)
1.1.2.1. Media outlets, fans, and social commentators have speculated that this chorus is directed at Big Sean, a famous rapper too, like Kendrick Lamar who mentioned that he was abandoning his humble attitude on "No Favors", a song by Big Sean and frequently uses the ad-libs "hol' up" and "lil' bitch," but Kendrick is likely addressing all of his competition, not just Big Sean. In fact, Kendrick has a 2011 song titled, "Hol' Up," so this lyric is a common theme throughout his music career.
2. Literary Devices
2.1. Connotation
2.1.1. "Stroke" (1st chorus)
2.1.1.1. A punch or hit that effects all his opponents in the rapping music industry
2.1.1.2. Strokes when having sex
2.1.1.3. Moving one's hands with gentle pressure over.
2.1.2. "Spiral "(1st chorus)
2.1.2.1. Winding in a continuous and gradually tightening curve, either around a fixed point on a flat plane or an axis so as to form a cone.
2.1.2.2. Refer to another rapper's career failing, or a woman reaching climax
2.1.3. "BM" (1st chorus)
2.1.3.1. "Baby Mother"
2.1.3.2. The car "BMW", made my a German car manufacturer
2.1.4. "AC" (2nd chorus)
2.1.4.1. Air conditioning
2.1.4.2. Alluding to the Affordable Care Act (ACA), which is related to into his Obama mention.
2.2. Imagery
2.2.1. "Nobody pray for me, It's been a day for me, Waaaaay (Yeah,yeah!)
2.2.1.1. Kendrick is trying to elicit religious imagery, by calling out for everyone to gather around him, much like how a preacher does, and depicting an image in the readers' minds as if he is dressed up like a pope.
2.2.2. "Ayy, I remember syrup sandwiches and crime allowances"
2.2.2.1. Kendrick uses imagery as he is reminiscing about the low-cost food he use to eat during his childhood such as "syrup sandwiches" and growing up in a poverty-stricken neighbourhood. The other term "crime allowances" is the drug money that his uncles gave him, or either the money he got from "finessing" or evading others by selling them counterfeits such as fake Nike Air Jordan shoes.
2.3. Archetype
2.3.1. "Soprano" in "Soprano C, we like to keep it on a high note"
2.3.1.1. A term meaning a female with the highest possible vocal range of a singer.
2.4. Analogy
2.4.1. "Pull up on your block, then break it down: we playin' Tetris"
2.4.1.1. Kendrick uses the term "Tetris" as an analogy in the 1st verse, "Pull up on your block ,then break it down: we playin' Tetris to mean different positions when having sex. It is because "Tetris" is a video.
2.5. Juxtaposition
2.5.1. "Still will take you down right on your mama's couch in Polo socks"
2.5.1.1. Kendrick is juxtaposing his humility with his success in his career. He continues his previous line about natural women, confessing that he would still make his moves on the "girl next door" but he does it in luxurious Ralph Lauren Polo socks.
2.6. Simile
2.6.1. "Show me something natural like afro on Richard Pryor"
2.6.1.1. Kendrick is using a simile by comparing a comedian, Richard Pryor who had an afro, which is a naturally-occuring hairstyle with black women that sometimes keep great lengths to straighten their naturally kinky hair due to social expectations of beauty. However, he is not seeking for natural beauty from women but also declaring support for black beauty.
2.6.2. "Show me somethin' natural like ass with some stretch marks"
2.6.2.1. Stretch marks are scars that occur on a person's skin when they rapidly gain weight or height in a certain period of time. Hence, Kendrick is trying to address to women that they should be natural and not try to utilize apps like Photoshop in attempt to make themselves appear as "hotter" or more attractive.
2.7. Hyperbole
2.7.1. "Girl I can buy yo' ass the world with my paystub"
2.7.1.1. A paystub is a piece of paper that is given to an employee with every paycheck they get and shows the amount of money the employee has earned and the amount that was deducted for taxes, insurance costs, etc. Kendrick, who's net worth is reported $18.5 million as of 2016, is telling this girl that he can get her whatever she desires just with his "paystub".
2.7.1.2. He is exaggerating the fact that he has all the money in the world and that he can meet the desires of his women, such as luxurious materials.
2.8. Repetition
2.8.1. Chorus of the song, "Bitch, be humble (Hol' up bitch), Sit down, (Hol' up, lil', hol up', lil bitch) (x2)
2.8.1.1. The two consecutive lines are being repeated from the start of the chorus for about five to six times. Kendrick is reminding himself here to be humble and continues to utter about the arrogant nature of people in his generation. He also frequently uses the ad-lib's, "hol'up" and "lil bitch" as a shot on another rapper, Big Sean as the rapper was abandoning his humble attitude on his song "No Favors".
2.8.2. "If I quit your BM, I still ride Mercedes, funk, If I quit your season, I still be the greatest, funk"
2.8.2.1. The word "funk" is being repeated at the end of both lines. Funk usually references to a style of popular dance music of black origin of US, based on themes of blues and soul and having a strong rhythm that usually makes the first beat in the bar transparent.
2.9. Allusions
2.9.1. "Get the fuck off my stage, I'm the Sandman (Sandman)"
2.9.1.1. Kendrick is referencing Amateur Night which was a show that showcases amateur singers, comedians and rappers. If the act was being performed horrendously and getting booed from spectators, then the 'Sandman" would come out to escort the entertainer offstage.
2.9.2. "I blew cool from AC, ayy, Obama just paged me, ayy
2.9.2.1. Kendirck is referencing "AC-ayy" to allude to the Affordable Care-Act (ACA), which refers to Obama's major legislation. The ACA has provided health insurance to millions of Americans since it was validated in 2010.
2.9.3. "This that Grey Poupon, that Evian, that TED Talk, ayy"
2.9.3.1. Grey Poupon is a brand of gourmet mustard that origins from Dijon, France. It has a storied history in hip-hop and is commonly associated with rich white men. In other words, Kendrick is alluding that black people are also capable of affording these type of luxuries, especially of white people.
2.9.4. "A.M. to the P.M., P.M. to the A.M., funk"
2.9.4.1. Kendrick is trying to allude that he is "fucking" or having sex all day, all night and as an informal mention to the radio. He also is trying to symbolise that he is playing on radio and describes his music as "funk". In other words, it could also mean that he is literally "fucking" the rap game up, in which he knows, he's the best.
2.10. Rhyme
2.10.1. "My left stroke just went viral, Right stroke put lil' baby in a spiral"
2.10.1.1. Rhyme refers to the ending words in the lines of a stanza in a poem that sound similar. Hence, it can be seen that Kendrick made these two sentences rhyme by using the words "viral" and "spiral" at the end of both sentences. The rhyming scheme in this poem is very irregular and the other times where there is rhyme is when the word at the end of the lines is being repeated. The effect of this particular rhyme are two intertwining narratives of this verse, which are being a great rapper and being a lover.
2.11. Alliteration
2.11.1. "Who dat nigga thinkin' that he frontin' on Man-Man? (Man-Man)
2.11.1.1. Repetition of the consonant "t" in the sentence.
2.11.1.2. The repetition of the "t" sound in this line creates a very prominent and noble atmosphere as it suggests that Kendrick is showing the audience of what a great figure he is.
2.11.2. "Show me somethin' natural like ass with some stretch marks"
2.11.2.1. Repetition of the consonant "s" in the sentence.
2.11.2.2. The replication of the letter "s" in this line implies the effects of a snake-like quality and shows the cunning and dangerous nature of Kendrick which he doesn't show often.
2.12. Assonance
2.12.1. "I get way to petty once you let me do the extras"
2.12.1.1. Repetition of the vowel "e" in the sentence
2.12.1.2. It adds rhythm to the song as Kendrick incorporates the vowel "e" into this line and grabs the audience's attention as it sounds very catchy.
2.12.2. "Ayy, this shit way too crazy, ayy, you do not amaze me, ayy"
2.12.2.1. Repetition of the vowel "a" in the sentence.
2.12.2.2. It reinforces the meaning that Kendrick is not amazed or fazed by the achievements of others but only by the act of humbleness. The line also sets an apathetic mood in a way where Kendrick shows no interest at all.
3. Artist
3.1. Kendrick Lamar
3.1.1. 1. Kendrick Lamar, is an American rapper and lyricist. He is a critically and commercially acclaimed artist who started his musical journey as a teenager. He began his career in music by recording mix tapes under the pseudonym K-Dot. His first musical contract was signed at the age of sixteen with record label Top Dawg Entertainment. He later went on to form a hip hop group and released his albums and singles along with actively taking part in stage shows and tours.
3.1.1.1. 2. He was born on 17th June 1987, in Compton, California. As the 1980s crack trade and West Coast gang presence increased, Lamar grew up around insecure street activity, but he seemed more influenced than harmed by it. He was a good student who enjoyed writing, first stories and poems, and then lyrics.
3.1.1.1.1. 3. At age 16, he composed a mixtape called "Youngest Head Nigga in Charge", which gained a lot of attention in his native Southern California. The project was sufficient to get Lamar a deal with Top Dawg Entertainment, which was a top-notch label during that time period. Lamar continued to release two other mixtapes, "Training Day" and "C4", also working with famous rappers like Jay-Rock , Ab-Soul and Schoolboy Q.
3.1.1.1.2. 4. As Lamar's reign continued to build in 2010, he collaborated with more popular artists such as Busta Rhymes, Young Jeezy and Lil Wayne. Dr. Dre, one of hip-hop's most respected producers took him under his care and signed him to his independent record label, Aftermath Entertainment which was also associated with rap stars Eminem and 50 Cent. In October 2012, Lamar released one of his fans' highly expected major-label debut album which was good kid, m.A.A.d city.
3.1.1.1.3. 5. Later in 2015, Kendrick released his next album, To Pimp a Butterfly, featuring talented artists such as Snoop Dogg, Thundercat, Pharrell Williams and others. The artist continued to impress fans with the April 2017 release of DAMN., which feaured tracks like "Humble", "DNA", and "Loyalty", a collaboration with famous RnB singer Rihanna. He not only achieved a prestigious double-platinum status, but the album was crowned by BBC news as the critics' favourite album of 2017, based on the year-end polls.
4. Setting (Music Video)
4.1. 1.In the start of the video, Kendrick stands in a dark room with a holy beam of light to portray religious imagery and themes, which makes the audience think of Kendrick as a person with religious power such as "God".
4.2. 2. In the next scene, it can be seen that Kendrick is lying down on a table in a room full of stacks of cash, complete with money printers and underdressed women counting money to show an assertion of power.
4.3. 3. In between the scenes of Kendrick at a church and in the money printing room, it creates a contrast between a place of purity, where everyone strives to become holy and a place of sin, where everyone is indirectly committing sins.
4.4. 4. In another scene, Kendrick looks to be sitting at a dining table with his friends, a recreation of Leonardo Da Vinci's famous work of art, "The Last Supper". This shows that Kendrick is trying to tell his audience that he is the Christ figure of hip-hop, and acts very boastful about it.
4.5. 5.Towards the end of the video, Kendrick raps directly through a window, where numerous red dots are aimed at him to show that he is a wanted men by the police. Despite the threatening from the cops, Kendrick still seems to be unfazed to indirectly communicate to his audience that he is above the law.
5. Narrator
5.1. The message that the narrator of this song, Kendrick Lamar is trying to show is that he is trying to demand respect from other fellow rappers after all his accomplishments and commands them to not be too proud or do anything to deliberately evoke him. He also clearly tells his fans that they should be proud to wear their natural beauty, especially of black women and working towards a unity within the movement for black lives. In this song, he is narrating it in a very serious and prominent tone. In one of the lines, the narrator mentions about Obama "paging" him as he is sincerely close with the former President in real life. Besides that, the language he uses in the song is somewhat a mixture of proper and explicit language as the song contains an agreeable amount of profanity words. Kendrick also has his own common style of diction in every song he produces.
6. Structure
6.1. The structure of the song or poem is more of like a free verse as the narrator does not follow a common rhyming scheme, punctuation and the line formation in the stanzas.
6.2. The song has 5 stanzas with 16 lines each which is definitely a form of a free verse song structure. It talks in order of how Kendrick tries to advocate the message of being humble by telling his life story of being poor into becoming wealthy in the first stanza, addessing humbleness in the second stanza, portraying examples of fake beauty and underestimation of the black community in the third stanza followed by the re-addressing of humbleness in the last stanza.
6.2.1. It includes a considerable amount of commas not at the end of the lines, but usually occurs in the middle of the lines in the stanzas which conveys a lot of emphasis on the idea that Kendrick is trying to manifest in the whole song. Additionally, it can be seen in the song that there are a few words such as "hol' up" and "lil' bitch" which are short forms for "hold up" and "little bitch". Some readers are able to be sucked into the song as they can relate to some of the examples of boastfulness that were shown by Kendrick in the song.
7. Theme
7.1. Besides that, he also uses repetition in the chorus of the song, when he says "Bitch, be humble (Hol' up, bitch), Sit down (Hol'up, lil', hol' up, lil' bitch), Be humble (Hol' up, bitch), Sit down (Hol' up, sit down, lil', sit down, lil' bitch)". Kendrick repeated this line to emphasise the act of being humble and is targeting other rappers, mainly like Big Sean, and also the black community. He was also inspired by the Holy Bible, which is a holy scripture for the Christians. In one of the verses in the Bible, Jeremiah 13:18 mentioned "Say unto the king and to the queen, Humble yourselves, sit down...", which indirectly sparked Kendrick to be humble and not showing off his fame to other fellow rappers.
7.2. Staying True to Your Humble Beginnings Before Fame
7.2.1. The imagery that Kendrick uses in this song is when he mentions in his first verse, "Ayy, I remember syrup sandwiches and crime allowances". Kendrick gives off the imagery by the letting the audience know that he use to eat low-cost food such as "syrup sandwiches" when he was growing up in an impoverished neighbourhood. He also talks about the "crime allowances" when his uncles use to give him drug money and him selling counterfeits to outmanoeuvre others. It was due to all of his good and bad memories which were his "humble beginnings" that brought him to where he is now.
7.3. Lastly, he uses allusion in the line, "I blew cool from AC, ayy, Obama just paged me, ayy". In this line, Kendrick claims that even though other well-known artists and celebrities have met Obama, he is actually quite close with Obama. In addition to that, Obama also said in 2015 that his favourite song of the year was "How Much A Dollar Cost" which was also a song by Kendrick himself. Thus, this obviously shows that Kendrick has earned his fame and is at the peak of his career. All of this was possible because of how he was humble when others told him he could not make it during his adolescence, but still believed in himself. In conclusion, this entirely shows that when a person is humble and silently does hard work, success is easily achievable.