Illustration
by LEIDY TATIANA HURTADO SALAZAR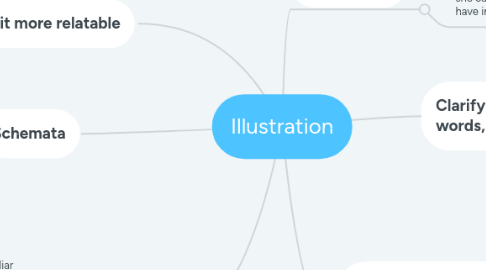 1. DEFINITION
1.1. Is to recreate through words, gestures, images or any other kind of resource in order to give to our addressee an idea that he or she can relate with something their may have in their mental repertoire.
2. Clarifying: -Examples, simpler words, every day life situations
3. Make it more relatable
3.1. Appealing to senses, emotions and the mind.
4. Schemata
4.1. Shema: A drawing that represents and idea or theory and makes it easier to understand.
5. FUNCTION
5.1. To make something unknown familiar
5.2. Clarify
5.3. Visualize ideas' intentions
6. WHAT TO LOOK FOR IN AN ILLUSTRATIVE TEXT
6.1. Generalization
6.2. Figures of speech