WHY YOUR BODY CAN JOG YOUR MIND
by Melissa Cadavid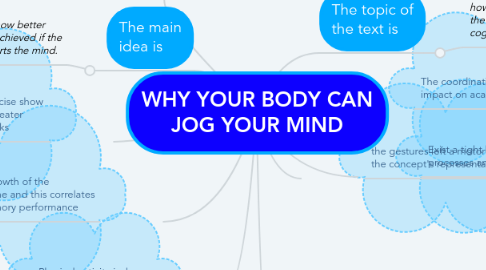 1. The thesis of the text
1.1. aims to show, through cognitive science, that our body is tightly linked to the mind.
2. The main idea is
2.1. explaining how better learning is achieved if the body supports the mind.
3. The topic of the text is
3.1. how the body supports the mind in difficult cognitive tasks.
4. The coordination have a positive impact on academic achievement
5. Physical activity induces neurogenesis
6. Exercise induces growth of the hippocampus volume and this correlates with enhanced memory performance
7. Students who practice exercise show less mood disorders and greater propensity to mastering tasks
8. Exist a tight link between cognitive processes and gestures.
9. the gestures left a motor trace in the concept's representation
10. Conclusion
10.1. Education is still reluctant to change, but with all the evidence prove the validity of physical exercise for cognitive performance, should be integrated other teaching methods as the body can be easily used as a learning tool in many areas