FICTIONAL GROUPS
by Concepción Denis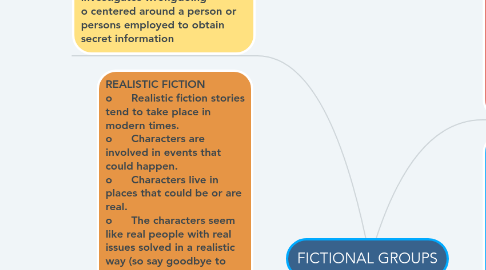 1. FANTASY: • contains elements that are not realistic o talking animals o magical powers o often set in a medieval universe o possibly involving mythical beings
2. HISTORICAL FICTION There is a mixture of real and fictional events. Significant historical events are historically accurate, but minor events and/or characters may be added or modified. Characters are involved in a conflict or problem that is real (or mirrors life) for that time period Uses descriptive writing that digs into characters making them interesting and are easy to identify with. Intriguing plot that creates some sort of suspense. Plot makes sense and has a solution. Historically authentic setting that sets the tone for the story. Is in a real place and a definite period of time in history that the reader wants to know more about.
3. MYSTERY: • a novel involving: o strangeness o solving a puzzling event or situation o something unknown o solving a crime o centered around a person who investigates wrongdoing o centered around a person or persons employed to obtain secret information
4. REALISTIC FICTION o Realistic fiction stories tend to take place in modern times. o Characters are involved in events that could happen. o Characters live in places that could be or are real. o The characters seem like real people with real issues solved in a realistic way (so say goodbye to stories containing vampires, werewolves, sorcerers, dragons, zombies, etc.). o The events portrayed in realistic fiction conjure questions that a reader could face in everyday life.
5. SCIENCE FICTION: • stories that often tell about science and technology of the future • involving partially true fictions laws or theories of science • Settings: o in the future o in space o on a different world o in a different universe or dimension
6. STUDENTS: MARCO ANTONIO POMOL AND MA. CONCEPCIÓN DENIS
7. References: http://www.readwritethink.org/files/resources/lesson-docs/GenreCharacteristics.pdf