ADDIE MODEL
by Jewelean Spiotta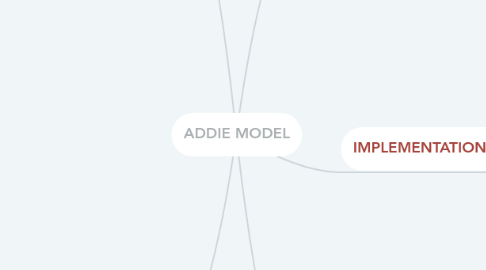 1. ANALYSIS PHASE
1.1. The instructional problem is clarified.
1.1.1. What is the timeline for project completion?
1.2. The instructional goals and objectives are established.
1.2.1. What is the desire outcome of the instruction?
1.3. The learning environment is identified.
1.3.1. What is the desire outcome of the instruction?
1.3.2. What are the delivery options?
1.4. The learners existing knowledge and skills are identified.
1.4.1. Who is the audience and what are their characteristics?
2. DESIGN PHASE
2.1. Learning Objectives
2.1.1. Apply instructional strategies according to the intended behavioral outcomes.
2.2. Assessment Instruments
2.2.1. Prototype different methods of assessment of objectives.
2.3. Exercises, Content, and Media Selection
2.3.1. Documentation of the instructional, visual and technical design strategy.
2.3.2. Apply visual design.
2.4. Lesson Planning
2.4.1. Create storyboards.
2.5. Subject Matter Analysis
2.5.1. Design the user interface and user experience.
2.6. Systematic & Specific
2.6.1. A logical, orderly method of identifying, developing, and evaluating a set of planned strategies.
2.6.2. Each part of the design needs to be done precisely, with accuracy.
3. DEVELOPMENT PHASE
3.1. Content Creation
3.1.1. Review and Revise, using feedback given.
3.2. Material Assembly
3.2.1. Review and Revise, ensuring all content is relevant and helps achieve the desired outcome.
3.3. Integrate Technology and Media into the instructional structure.
3.3.1. Perform debugging procedures.
4. IMPLEMENTATION PHASE
4.1. Develop training for facilitators and learners.
4.1.1. Facilitators' training needs to cover the course curriculum, learning outcomes, method of delivery, and testing procedures.
4.1.2. Learners training will instruct them on new tools and student registration.
4.2. Ensure books, hands on equipment, tools, media, and software are assembled and functional.
4.2.1. Students and facilitators will be provided with demonstrations of all essential materials.
5. EVALUATION PHASE
5.1. Formative
5.1.1. Used at every phase of the ADDIE Model to ensure that the instructional material is capable of alteration for the learner by growth and development.
5.2. Summative
5.2.1. Happens after the student has finished learning the instructional material to evaluate how well the information was retained by the student.