Personalized ADDIE Model
by Gianna Corrao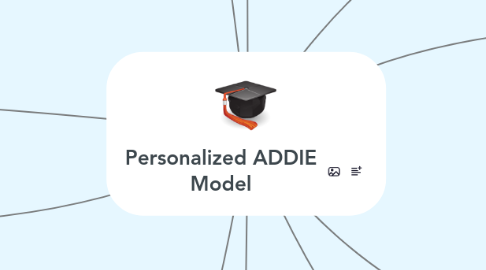 1. Analysis: Research phase; establish instructional gaps and challenges, as well as the audience and learning goals.
2. EVALUATION
2.1. Collect data from the field
2.2. Observe the validity of content
2.3. Communicate with stakeholders
2.4. Review effectiveness of training
2.5. Define improvements
3. IMPLEMENTATION
3.1. Develop training procedures
3.2. Train the trainer
3.3. Present a solution for the training gap(s)
4. DEVELOPMENT
4.1. Produce the solution
4.2. Assess materials created
4.3. Consider pilot needs, if applicable
5. DESIGN
5.1. Assess brand standards
5.2. Determine design media/platform
5.3. Develop training activities
5.4. Integrate activities
6. ANALYSIS
6.1. Assess needs
6.2. Define gaps
6.3. Identify audience
6.4. Create goals and objectives
6.5. Define what success is
7. Design: Strategize format and delivery to create an evolving training prototype.
8. Development: Polish and support training prototype by adding appropriate graphical elements and removing extra content.
9. Implementation: Share course/content with SME(s) to determine action items.
10. Evaluation (ongoing): Instructional designers assess learners' progress, as well as review learners' assessment of the course effectiveness.