A.D.D.I.E. Model
by Brittany Leach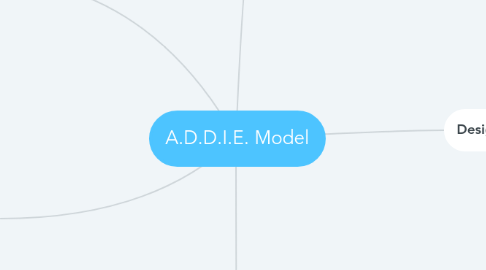 1. Analyze
1.1. The analysis phase is meant to determine the needs for the training and of the audience. This involves researching and answering the following questions:
1.1.1. Who needs the training?
1.1.1.1. What experiences and knowledge do they already possess?
1.1.2. Why is this training needed?
1.1.2.1. What skills need to be learned?
1.1.3. When is the training needed?
1.1.3.1. What are the time frames/deadlines?
1.1.4. How will the training be conducted?
1.1.4.1. What are some options for teaching the new skills?
1.1.5. What are the goals of the training?
2. Develop
2.1. The develop phase is when the training or course is created.
2.1.1. Design lessons or modules.
2.1.1.1. Write content and build activities
2.1.1.2. Get copyright clearances for 3rd party materials
2.1.1.3. Choose colors, fonts, and design layout
2.1.2. Create trainer materials, if needed.
2.1.3. Load content to LMS or host.
2.1.4. Use a sample group to test the training.
2.1.4.1. Make any adjustments as needed
3. Design
3.1. The design phase determines the basic outline of the training. Some of the steps involve:
3.1.1. Turning goals into learning objectives.
3.1.1.1. Write out specifics of behaviors or skills desirable and how they will be assessed.
3.1.2. Determine topics
3.1.2.1. Create a storyboard, outline, or lesson plan
3.1.3. Determine activities
3.1.3.1. Designate exercises, activities, and media
4. Evaluate
4.1. The evaluate phase assesses the effectiveness of the training.
4.1.1. Evaluate data and feedback.
4.1.2. Make improvements to the training or use information for future training.
5. Implement
5.1. The implement phase is when the training is provided.
5.1.1. Provide training to any support staff or provide a train-the trainers.
5.1.2. Train target audience.
5.1.2.1. Market to audience, if needed.
5.1.3. Provide technical assistance, as needed.