ADDIE - KEY QUESTIONS
by Annette Zammit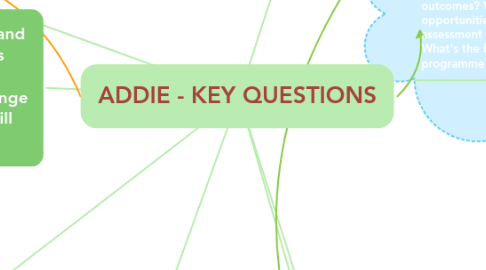 1. Analyse
2. What is the key input - theory and practice? What are the best learning activities for each stage? What are the key outputs?
3. Evaluate
4. What are the success criteria? How will the participants assess their progress and next steps? How will I assess the engagement, knowledge and skills development of the learners?
5. Develop
6. What's the learning approach? What learner skills are needed? What's the specific programme objectives, aims and outcomes? What are the learning opportunities and constraints? What assessment methodology will I use? What's the best vehicle for the programme?
7. Design
8. What's the learning need and why? How will the learners respond to the programme?What will change as a result of it and how will we know this?