Ways WWI is commemorated
by ash santa-isabel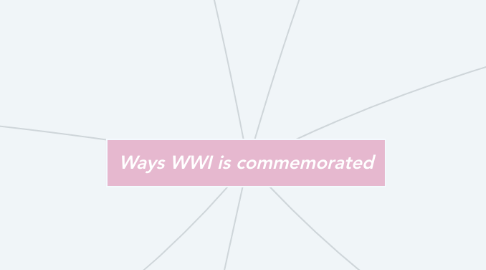 1. Events
1.1. Anzac day
1.1.1. Anzac day began on the 25th April, 1916 on the Gallipoli peninsula. ANZAC stands for Australia and New Zealand Army Corps.
1.1.2. The day was marked by a wide variety of ceremonies and services across Australia, even to this day.
1.2. Rememberence day
1.2.1. On the 11th of November, 1918, Rememberence day begun. It was originally named Armistice Day. However, in Australia it was renamed in 1997 to what we know it as now.
1.2.2. The name change broadened the meaning of the day, widening the focus from World War I, to a day which commemorates those who served in any war or conflict.
1.2.3. It began In France and Belgium, but is now commemorated all over the world.
2. Memorials
2.1. Australian War Memorial
2.1.1. The Australian War Memorial's purpose is to commemorate the sacrifice of those Australians who battled away in the great War. The memorial was built on the 11th November, 1941 in the Australia's Capital, Canberra.
2.1.2. It was originally commemorated by only Victorians, but is now acknowledged country wide.
2.2. Shrine of Remembrance
2.2.1. The Shrine of Rememberance was built in 1934 to honour both the men and women of Australia who served in WW1, but now functions as a memorial to all Australians who have served in any war.
2.2.2. Along with the AustralianWar Memorial, Victorians were the few that commemorated the brave, however, this has changed dramatically since that time.
2.3. Cemetaries
2.3.1. With millions of people sadly passing throughout the war, many cemetaries were built all over the world to commemorate the brave soldiers who went to battle. However, one of the most famous of these being the Tyne Cot Cemetery in Passendale, Belgium.
2.3.2. This cemetery has 1,353 burials for Australians who passed during the great war.
2.4. Menin Gate
2.4.1. The new Menin Gate was made during the initiation service, in July 1927, in Ypres, Belgium. Since 1928, buglers from the Last Post Association have been playing the Last Post in this very spot to honour it each night at 8 p.m.
3. Movies/Documentaries
3.1. 'Gallipoli'
3.1.1. Released in 1981, Gallipoli, directed by Peter Weir, is a movie in which two teenagers are inducted as messengers in one of the bloodiest battles of the war.
3.1.2. The elegance of the film means that themes of friendship and the foundations of the ANZAC legend, aren't clichés, and characters aren't arbitrarily wedged in for no other reason than to commemorate the brave soldiers who fought.
3.1.3. Being known as one of the greatest Australian movies to date, it is watched and celebrated all over the world, but mainly in Australia.
3.2. 'War Horse'
3.2.1. The movie 'War Horse' was released on the 26th November in 2011. The film shows a beloved friendship between a man and his horse, yet, fi nd themselves apart when Albert sets off to war.
3.2.2. War Horse was created to commemorate the passing of an era in which man and horse suffered similar fates in a time of world crisis.
3.3. 'They Shall Not Grow Old'
3.3.1. 'They Shall Not Grow Old' is a film directed by Peter Jackson, which aired on the 16th October 2018. The movie shares upfront details, with real footage to make it plausible, about the men who fought, their life before, during and after the war, as well as their emotions, dreams and possible futures.
3.3.2. This movie was brought out in 2018 to commemorate 100 years passing since the end of the war. To this day, it is still being shown to teach kids and/or adults the troubles they went through to protect their country. It is commemorted all over the world, particularly in the UK.
3.4. 'All quiet on the Western Front'
3.4.1. This film pursues a group of German students, convinced to enroll in World War I by their persuasive teacher. The story is told through the encounters of the German enlists and features the deplorability of war through their eyes.
3.5. Both these movies are viewed and commemorated all over the world
3.6. '1917'
3.6.1. Ath the beginning of WW1, two youthful British men are given an apparently outlandish mission. In a race against time, they should cross enemy land and convey a message that will stop a destructive assault on many officers, Blake's very own brother among them.
4. Symbols
4.1. Poppies
4.1.1. During WW1, red poppies were among the only plants to bloom in the demolished war zones of northern France and Belgium. In soldier's old stories, the clear red of the poppy originated from the blood of their companions drenching the ground.
4.1.2. The first poppies were seen growing over soldier's graves in Flanders field, Belgium.
4.1.3. To this day, poppies are worn as an act of respect to pay tribute to WW1 heroes, all over the world.
4.2. Minute of Silence
4.2.1. A minute of Silence was first introduced in 1919, by Edward George Honey, who began this symbol as a moment of respect and reflection upon the passing of the soldiers from the Great War.
4.2.2. To this day, a minute of silence is used to honour those who fought on our behalf. Worldwide, this is done on both ANZAC Day and Remembrance day.
5. Poetry/Art
5.1. Gassed - John Singer
5.1.1. Gassed is an oil painting that was made in March 1919, by John Singer Sargent. It recreates the result of a mustard gas assault during WW1, with a line of injured fighters walking towards a dressing station.
5.2. Over the top - John Nash
5.2.1. Over The Top is an oil-on-canvas painting by John Nash. It was painted by nash in 1918. It shows an attack on Welsh Ridge in Northern France on the 30th December 1917, during the First World War.
5.3. In Flander Fields
5.3.1. 'In Flander Fields' is a poem written by John Macrae. The original poem was created on the 8th December, 1915 by Lieutenant Macrae.
5.3.2. It is one of the most cited and remembered poems from the war. Because of its prompt prevalence, parts of the poem were used in endeavors and offers to enroll fighters and fund-raise selling war bonds.
5.3.3. Though known worldwide, it is mostly read and honoured in Canada, that being where John Macrae was from.
5.4. Dame De Coeur Light show
5.4.1. On october 18th, 2018, the Dame de Coeur Light show dedicated its annual show to the 100th year since WW1. It lit up the Notre Dame with thousands of lights like one would have never seen.
5.4.2. The show included a walk through of the Notre Dame and included a back story (this being about a dying American Soldier's wosh being to see the Notre Dame).
5.5. Path of glory
5.5.1. Path of Glory is a 1917 painting by British artist Christopher Nevinson. The painting shows two dead British soldiers lying face down in the mud near barbed wire. Their helmets and rifles lie in the mud next to them.
6. Books
6.1. 'A farewell to arms'
6.1.1. A Farewell to Arms is a novel by Ernest Hemingway set during the Italian crusade of World War I. First distributed in 1929, it is a first-person record of an American, Frederic Henry, filling in as a lieutenant in the emergency vehicle corps of the Italian Army.
6.2. 'Love letters of the great war'
6.2.1. This book compiles many love letters sent from soldiers to their lovers during World War I. Love Letters of the Great War unites probably the most sentimental correspondence at any point composed by soldiers separated from their beloveds.
6.3. 'Goodbye to all that'
6.3.1. 'Goodbye to All That' is an autobiography written by Robert Graves, which was originally written in 1929, when Graves was 34. "It was my harsh leave-taking of England," he wrote in a prologue to the overhauled second release in 1957. The novel traces the monumental and universal loss of innocence and naivety that occurred as a result of the First World War.
6.4. 'Storm of steel'
6.4.1. Storm of steel was originally a journal wirrten by Ernst Jünger in 1920, then later translated for Penguin books in 2004. Storm of Steel depicts Ernst Jünger's understanding of battle on the frontline - protecting channels against dangerous British invasions and basically suffering as shells destroyed his closest friends. The repulsions as well as the interest of a war that made men continue battling for four long years.
6.5. 'The Price of Glory - Verdun 1916'
6.5.1. 'The Price of Glory' is a novel which includes the 'fall of Paris' and 'to lose a battle', in which both tell the story of the great crises of the rivalry between France and Germany. This book was written by Alistair Horne and published on the 4th November, 1993.
7. Songs
7.1. The last post
7.1.1. During the war, The last post signified the end of the day's activities. However, in our day and time, it is used at a Soldier's funeral and on ANZAC and Remembrance day. The song itself was actually created in the 17th century.
7.1.2. The last post symbolises the duty of the dead is over and they can rest in peace.
7.2. Green fields of France - The Furey's
7.2.1. This song by the Furey's, reflects on the grave of a young man who died in World War I. Its chorus refers to two famous pieces of military music, 'The Last Post' and 'The Flowers of the Forest', meaning the poppies that grew during WW1.