12 Classroom Discipline Techniques and Tips as discussed by Faezeh Parkes
by steph vossen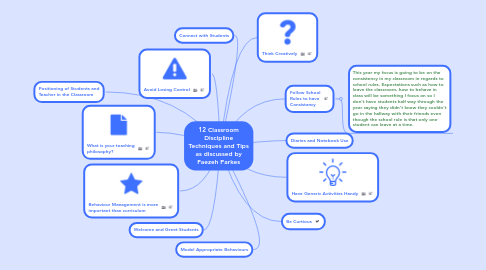 1. Think Creatively
2. Follow School Rules to have Consistancy
2.1. This year my focus is going to be on the consistency in my classroom in regards to school rules. Expectations such as how to leave the classroom, how to behave in class will be something I focus on so I don't have students half way through the year saying they didn't know they couldn't go in the hallway with their friends even though the school rule is that only one student can leave at a time.
3. Be Curtious
4. Have Generic Activities Handy
5. Behaviour Management is more important than curriculum
6. What is your teaching philosophy?
7. Avoid Losing Control
8. Model Appropriate Behaviours
9. Diaries and Notebook Use
10. Positioning of Students and Teacher in the Classroom
11. Welcome and Greet Students
12. Connect with Students