ADDIE MODEL
by Larissa Norris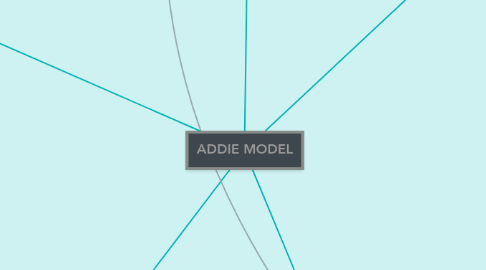 1. ANALYZE Determine the existing needs for training and the gaps in knowledge.
1.1. ASK THE MAIN QUESTIONS
1.1.1. WHO: -Job role -Age of audience -Learning style -Technological ability -Who is presenting material? -Who is developing material? -Who needs to approve material? -Who will benefit from this knowledge?
1.1.2. WHAT: -What are you trying to accomplish? -What are you hoping is the result? -What is already known by audience/has already been taught? -What is the missing knowledge? -What is the budget for production? -What/if any is the cost for learners?
1.1.3. WHERE: -Where are learners located (local/online)? -Where will program be conducted? -Where will you advertise training?
1.1.4. WHEN: -When should program begin? -How long should it last? -When/how long does it get advertised? -When do we want to see results? -When do you analyze throughout the process? -When/how often should this program be presented? -When will facilitators be trained?
1.1.5. WHY: -Why is this program needed? -Why should learners be interested? -Why will this help the learners? -Why will this help us (original organization)? -Why use selected presentation method?
1.1.6. HOW: -How will program/content be developed? -How will program/content be presented? -How will presenters be trained? -How will learners be recruited? -How will learners be assessed? -How will program/content be evaluated?
2. DESIGN Create a plan for the course/training.
2.1. ESTABLISH LEARNING OBJECTIVES
2.2. DEVELOP TACTICS AND STRATEGIES TO ACCOMPLISH OBJECTIVES
2.3. RESEARCH AND COMPILE MATERIALS NEEDED TO DEVELOP CURRICULUM
2.4. CREATE OUTLINE, STORYBOARDS, SCRIPTS, CURRICULUM
2.5. CREATE PROTOTYPES
2.6. PRESENT TO TEAM, AUTHORITY FIGURE, WHOMEVER IS NECESSARY FOR FEEDBACK, EVALUATION AND APPROVAL
3. DEVELOP Create the actual presentation.
3.1. BUILD PRESENTATION IN WHICHEVER FORMAT WAS CHOSEN
3.1.1. VIDEO, POWER POINT, IN-PERSON CLASS, ETC...
3.2. SELECT STYLE ELEMENTS
3.2.1. FONTS, GRAPHICS, DEVELOP VISUAL THEME
3.3. TEST, TEST, RETEST
3.3.1. Check user experience. Make sure presentation can be experienced as intended.
3.4. DETERMINE HOW TO EVALUATE SUCCESS OF PROGRAM
3.5. PRESENT TO PILOT GROUP
3.6. REVISE PROGRAM BASED ON RESULTS FROM PILOT GROUP
3.7. MAKE PLAN FOR TRAINING FACILITATORS
3.8. MAKE A PLAN FOR ADVERTISING TRAINING
3.9. MAKE A PLAN FOR HOW LEARNERS WILL REGISTER FOR PROGRAM
4. IMPLEMENT Put the plan into action.
4.1. MULTIPLE PHASES
4.1.1. FIRST -Train facilitators -Start advertising -Open Registration
4.1.2. SECOND -Present program
4.1.3. THIRD -Present learners with feedback and assessment tools
5. EVALUATE Determine success/areas for improvement.
5.1. COLLECT LEARNER FEEDBACK
5.2. ANALYZE FEEDBACK
5.3. DETERMINE WHICH GOALS WERE MET AND AREAS FOR IMPROVEMENT
5.4. PRESENT/REPORT FINDINGS
5.5. DETERMINE NEXT STEPS