About Jeffrey Ekoma
by Jeffrey Ekoma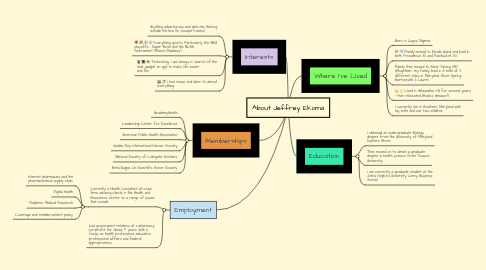 1. Education
1.1. I obtained an undergraduate Biology degree from the University of Maryland Eastern Shore.
1.2. Then moved on to obtain a graduate degree in health science from Towson University.
1.3. I am currently a graduate student at the Johns Hopkins University Carey Business School
2. Where I've Lived
2.1. Born in Lagos, Nigeria
2.2. Family moved to Rhode Island and lived in both Providence, RI and Pawtucket, RI
2.3. Family then moved to Silver Spring, MD. Altogether,, my family lived in a total of 3 different cities in Maryland: Silver Spring, Burtonsville & Laurel.
2.4. Lived in Alexandria, VA for several years - then relocated (thanks Amazon!)
2.5. I currently live in Southern Maryland with my wife and our two children
3. Interests
3.1. Anything adventurous and gets me thinking outside the box (ie. escape rooms).
3.2. Everything sports. Particularly the NBA playoffs , Super Bowl and the NCAA tournament (March Madness).
3.3. Technology. I am always in search of the next gadget or app to make life easier and fun.
3.4. I love music and listen to almost everything.
4. Memberships
4.1. AcademyHealth
4.2. Leadership Center for Excellence
4.3. American Public Health Association
4.4. Golden Key International Honour Society
4.5. National Society of Collegiate Scholars
4.6. Beta Kappa Chi Scientific Honor Society
5. Employment
5.1. Currently a Health Consultant at a law firm, advising clients in the Health and Bioscience sector on a range of issues that include:
5.1.1. Internet pharmacies and the pharmaceutical supply chain
5.1.2. Digital health
5.1.3. Pediatric Medical Research
5.1.4. Coverage and reimbursement policy
5.2. Led government relations at a pharmacy non-profit for about 5 years with a focus on health professions education, professional affairs and federal appropriations..