Mavens & Moguls: Creating a New Business Model
by Daniela Castillo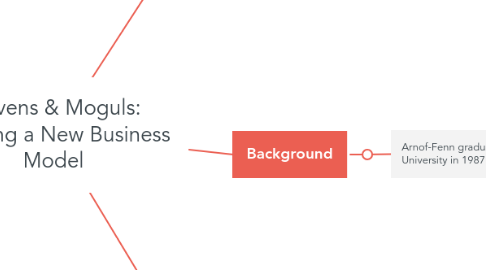 1. Company Description
1.1. Mavens & Moguls provided a range of consulting services that included the development of brand and market strategies, marketing communications and media relations, new product development, customer relationship management, research, as well as the planning and hosting of promotional events.
1.1.1. The company, organized as an LLC, drew on the myriad skills of contract employees who lived throughout the U.S. and abroad. Founder Arnof-Fenn developed new business engagements, recruited consultants, and linked those consultants to jobs based on their expertise and personal fit with the projects. She was skilled at creating teams that provide the right mix of marketing expertise on each assignment.
2. Background
2.1. Arnof-Fenn graduated from Stanford University in 1987 with an AB in economics
2.1.1. Management writer Joan Magretta defined a business model as "the story that explains how an enterprise works," harking back to Peter Drucker, who described it as the answer to the questions: Who is your customer, what does the customer value, and how do you deliver value at an appropriate cost?
2.1.2. Immediately upon graduation she joined Morgan Stanley where she worked as a financial analyst in the New York and Los Angeles offices for the next two years.
2.1.2.1. She was offered a number of interesting opportunities to stay on with Coke but opted instead to move with her husband to the west coast where he had just started a new job. In December of 1997 she joined Santa Monica, CA-based Launch Media as senior vice president of marketing. The internet start-up was a company in "hyper-growth mode" with substantial resources from its venture capital backers, moving quickly to deliver products and have an IPO. It was also Arnof-Fenn's initiation to a truly entrepreneurial organization, one that offered lots of autonomy, but not much direction or structure.
2.1.2.1.1. Eighteen months later, when Inc Magazine was acquired by Bertlesman in 2001, Arnof-Fenn decided to move on. She joined Zipcar, a young Boston start up, as vice president of marketing. Less than one year later, in December 2001, her boss informed her that the company was running low on cash and that she would no longer be paid after January 31, 2002.
3. Viability of the Business Model
3.1. Arnof-Fenn let a few friends and former colleagues know that she was available and open to ideas. The telephone soon started ringing with requests to do consulting. She realized she could attract considerable work as an independent contractor, but that a consulting business would be much richer if she collaborated with other professionals. Arnof-Fenn set out to create a business that would allow her to "work on cool projects with smart people."
3.1.1. She consulted with her network of colleagues, customers, and friends to discuss her vision and flesh out her plans. Nearly every call she made produced a potential project contract or an indication of interest in working with her as a consultant. "Many of the people that I called were in flux – about to lose their job or had just lost their job," Arnof-Fenn said. "I wanted to leverage our collective experience and talent, so I built a business to do that." She began to formalize a plan that included achieving professional success while still maintaining a high quality of personal life.
3.1.1.1. Arnof-Fenn knew that Mavens & Moguls worked for her personally and for the consulting team she had assembled. She also sensed that as the economy rebounded, corporations would be initiating more marketing projects and would want the flexibility and professional capabilities that a firm like Mavens & Moguls could provide.