Nursing Legacy: "Help treat patients suffering from mental illness and addiction by providing a blend of holistic and medication therapies."
by Jacquelyn Woods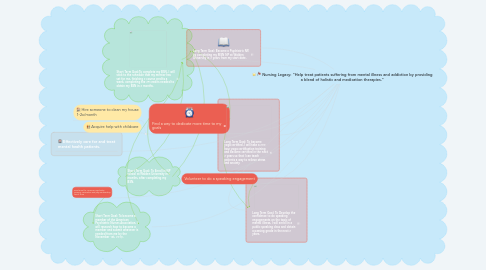 1. Send email to American Psychiatric Nursing Association and pay membership fee of $135
2. Volunteer to do a speaking engagement
3. Find a way to dedicate more time to my goals
3.1. Hire someone to clean my house 1-2x/month
3.2. Acquire help with childcare
4. Long Term Goal: Become a Psychiatric NP, by completing my MSN NP at Walden University in 2 years from my start date.
5. Short Term Goal:To complete my BSN, I will stick to the schedule that my mentor has set for me, finishing 2 course credits a week, completing the 25 credits needed to obtain my BSN in 6 months.
6. Short Term Goal: To Enroll in NP school at Walden University in 6 months, after completing my BSN.
7. Short Term Goal: To become a member of the American Psychiatric Nurses Association, I will research how to become a member and submit whatever is needed from me by the November 1st, 2019.
8. Effectively care for and treat mental health patients.
9. Long Term Goal: To Develop the confidence to do speaking engagements on the topic of mental illness, I will enroll in a public speaking class and obtain a passing grade in the next 2 years.
10. Long Term Goal: To become yoga certified, I will take a 200 hour yoga certification training and become certified in the next 2 years so that I can teach patients a way to relieve stress and anxiety.