My new mind map
by mahnoor sajid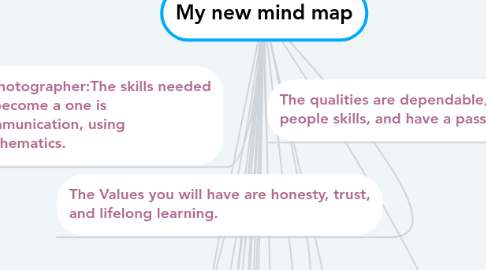 1. The Qualities:Punctual, proactive, and enthusiastic
2. Values: integrity, quality, honesty, trust, and fairness
3. Skills: communication,teamwork, and the ability to remain calm
4. Pilot
5. Values: Quality, honesty, trust, and fairness
6. Qualities: Dependable, trust worthy, reliable, and hard working
7. The skills: creativity, interpersonal, and commercial awareness
8. Mechanical Engineer
9. Values: Wisdom and creativity
10. Qualities: Passion, easy going, creativity, confident, and adaptability
11. Skills Design skills and knowledge, and customer service skills
12. Architect
13. The values: writing a properly code, self motivation and independence
14. The qualities: Hardworking, independent, reliable, dependable, and co-operative
15. The skills needed: Mathematics skills, writing, communication skills, and a passion for problem solving
15.1. The qualities hardworking, reliable, independent, and dependable:
16. Computer programmer
17. The Values you will have are honesty, trust, and lifelong learning.
18. The qualities are dependable, have good people skills, and have a passion for it.
19. A Photographer:The skills needed to become a one is communication, using mathematics.