TEC Learning Hours Investigation
by Alysha Reti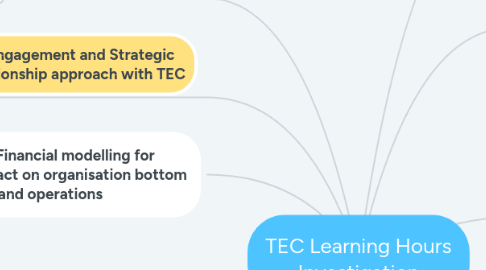 1. 2.0 Information Collection
1.1. Correspondence, hui communication
1.2. Data collection approach and process
1.3. Impacted programmes information
2. 1.0 Letter to TEC regarding investigation process
2.1. To pause investigation and ask for information around the process (to Dean from Ben)
2.1.1. the investigation methdology
2.1.2. decision-making framework (decisions made and rationale/justification for the decisions)
2.1.3. What was the original scope the investigation was working towards, what is the new scope, how and why has it changed
2.1.4. Consult with Bryan and Katie.
3. 1.0 Email to TEC requesting information on the data collected
3.1. Guidance from Lorrinda
3.2. From Te Ururoa to Tim Fowler
4. 6.0 Engagement and Strategic Relationship approach with TEC
4.1. Consider TWoA engagement with TEC
4.2. BAU continue
4.3. Consider negotiation strategy
5. 8.0 Comms and PR Campaign Plan
5.1. Who are the different Government audiences we need to consider and how should we be engaging with them
5.2. Utilise advice from Jon Stokes and an external consultant
5.3. What positive stories can we campaign
5.3.1. Initial positioning of TWoA contribution to Aoteroa and te reo (using Māhuru Māori)
6. 5.0 Financial modelling for impact on organisation bottom line and operations
6.1. Will be informed by analysis of TEC findings and their view on clawback calculation
6.2. Develop scenarios of impact on TWoA bottom line for consideration
6.2.1. Clawback options over time
7. 9.0 Legal investigation
7.1. Do we have a case?
7.1.1. Procedural unfairness
7.1.2. Natural justice
7.2. Who will front the case?
7.3. Legal advisor for the above two points
7.3.1. Suggestion from Bella (Awanuiārangi)?
7.3.2. EER kaimahi that has joined Chen Palmer?
7.3.3. Kāhui Legal? (Te Ururoa)
7.3.4. Suggestions from Katie?
7.3.5. Suggestions from Will Workman?
8. 7.0 Obligations of Govt agencies (TEC/NZQA)
8.1. What are the statutory obligations and have they been met
8.2. What criteria has been set and how is it monitored?
8.3. Comparative analysis of investigations of other TEIs
8.4. OAG investigation
9. 10.0 Internal review and learnings that have been realised from the investigation
10. 3.0 External Consultant: Will Workman
10.1. Clarify what we need from them
10.2. Draw up contract, objectives and milestones
11. 4.0 Analysis of GT Information and Calculations
11.1. Review information and calculations
11.2. Write up report and recommendations
11.3. Feed findings into financial modelling scenarios