"Is there any sort of situation where you can say with certainty that a single person is responsible for what happens? Everything in life is dependent on so many different factors that interact in so many different ways." ― M.T. Edvardsson, A Nearly Normal Family
by Abigail Arrata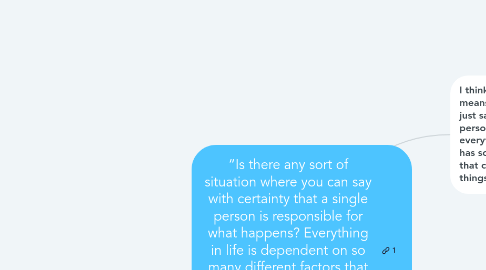 1. I think this quote means that you can't just say that one person controls everything. That life has so many things that causes certain things to happen.
1.1. Source 1 : "A Sound of Thunder"
1.1.1. EXAMPLE 1 - In "A Sound of Thunder" it talks about the butterfly effect and if he shoots a certain animal it can change up the whole future.
1.1.2. EXAMPLE 2 - There were so many factors in "A Sound of Thunder" that acted in so many different ways that could mess up the future.
1.1.3. EXAMPLE 3 - There is so many things in the world like animals, fire, time, and more there is no way just one person is controlling it all.
2. I agree because there is so many different things to cause everything that happens it couldn't be just one person.
2.1. Source 2 : "Understanding The Butterfly Effect"
2.1.1. EXAMPLE 1 - It says in the text that a butterfly can flutter it wings in China and cause a whole hurricane in the Caribbean.
2.1.2. EXAMPLE 2 - They made it up to indicate something very small could exhibit something else very big somewhere else.
2.1.3. EXAMPLE 3 - They say things like random big storms and unpredictable weather on that something may of happened somewhere else.