Kelvin W. Howard Law Firm
by Do Jin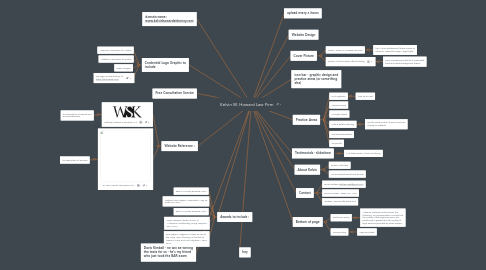 1. Cover Picture
1.1. Name : Kelvin W. Howard Law Firm
1.1.1. font : more professional (times roman or others to resemble lawyer - legal style)
1.2. Picture : black & white office building
1.2.1. have a professional feel to it mixed with black and white background theme
2. Practice Areas
2.1. Civil Ligitation
2.1.1. look up for rest
2.2. Personal Injury
2.3. Wrongful Death
2.4. Wills & Estate Planning
2.4.1. use the stock picture of pencil and pen already on website
2.5. Government Entities
2.6. Corporate
3. Testimonials - slideshow
3.1. 3 of testimonials - short and strong
4. About Kelvin
4.1. Picture of his face
4.2. His accomplishments and awards
5. Contact
5.2. phone number : (205) 379 - 1165
5.3. address : remains the same as is
6. domain name: www.kelvinhowardattorney.com
7. Bottom of page
7.1. Disclaimer Policy
7.1.1. Alabama State Bar Rules require the following: No representation is made that the quality of the legal services to be performed is greater than the quality of legal services provided by other lawyers.
7.2. Privacy Policy
7.2.1. copy and paste
8. Credential Logo Graphic to include
8.1. American Association for Justice
8.2. Alabama Association for justice
8.3. Super Lawyers
8.4. use logos on the bottom of: https://shunnarah.com/
9. Free Consultation Service
10. Website Reference :
10.1. Waldrep, Stewart & Kendrick, LLC
10.1.1. for description of awards and accomplishments
10.2. PT Law | Parnell Thompson, LLC.
10.2.1. for description of services
11. Website Design
12. Davis Kimball - he will be writing the texts for us - he's my friend who just took the BAR exam
13. upload every 4 hours
14. Awards to include :
14.1. Best in Minority Business, 2013
14.2. National Trial Lawyer's Association "Top 40 under 40" 2012
14.3. Best In Minority Business, 2013
14.4. Super Lawyers, chosen as one of "Alabama's Outstanding Young Lawyers", 2011; 2013
14.5. Birmingham Magazine, chosen as one of the City's "Top Attorneys in the field of Personal Injury and Civil Litigation", 2012, 2013
15. hey
16. icon bar - graphic design and practice areas (or something else)