Universal Design Of Learning
by Laautra Cousar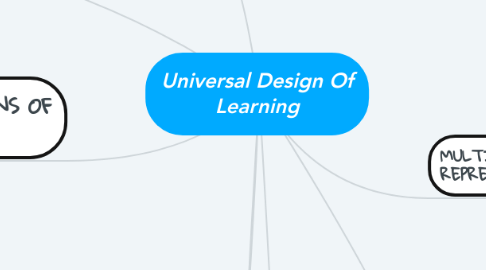 1. Learners will have a choice in the media they use to communicate their understanding: text, speech, video, ect.
2. Executive Functions
3. Provide options for expression and communication
4. Sustaining Efforts & Persistence
5. Recruiting Interest
5.1. The child will be given choices in the tools they use. For example, the child can choose to write notes using Cornell Notes or Sketch Notes.
6. MULTIPLE MEANS OF ENGAGEMENT
6.1. Self-regulations
6.2. Children work independently and in small groups. The teacher can provide a Google Doc so that the learners can work together or alone in the doc.
6.3. The students will develop self-assessments and reflections. For instance, children can use an online journal to record reflections.
7. MULTIPLE MEANS OF REPRESENTATION
7.1. Perception
7.1.1. Learners are able to adjust text size, fonts, color, and other visual displays options.
7.2. Language & Symbols
7.3. Comprehension
8. MULTIPLE MEANS OF ACTION & EXPRESSION
8.1. Physical action
8.2. 2. Children will be able to respond such as by writing their answers down on paper, typing them on a computer or mobile device.