Lean IT: hoe Lean toepassen op de IT organisatie?
by
Kris Waelkens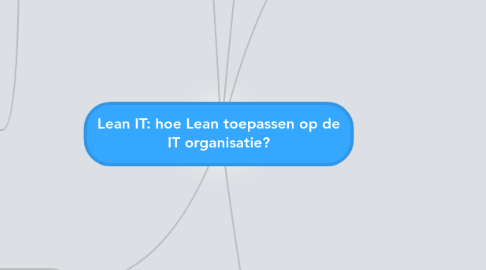 0.0
stars - reviews range from
0
to
5
Lean IT: hoe Lean toepassen op de IT organisatie?
Uitgangspunten
een vergaande "business alignment" en "business integration" mogelijk maken, met als doel : waarde creëren voor de organisatie en haar klanten
continue verbetering, innovatie en wendbaarheid ("agility") mogelijk maken
mensen, processen en technologie moeten in evenwicht zijn
Lean fundamenten
"Constancy of purpose"
Respect voor mensen
Perfectie nastreven
Proactief gedrag
De stem van de klant
"Quality at the Source"
Systems thinking
Flow, Pull, JIT
Cultuur
Waarde
3 M's
Poka Yoke = fouten voorkomen
Lean technieken
A3 thinking
Value stream mapping
Kaizen
Gestandaardiseerd werken
5S
Visuele werkplek
Gemba
oorzaak- en gevolgdiagram (fishbone)
Naar binnen gerichte Lean IT - interne processen optimaliseren
Informatie waste
Green IT (milieu waste)
Flow en Pull
Software ontwikkeling
Project Management
Naar Buiten gerichte Lean IT - alignment met de business
Hoe verwezenlijken?
IT-afdeling = catalysator om verbeteringen door te voeren
Wendbaarheid ("agility")
proces vs. praktijk
effectief meten
BPM
prioritiseren