CAPITAL STRUCTURE - MEANING AND FACTORS DETERMINING CAPITAL STRUCTURE
by JENY SAY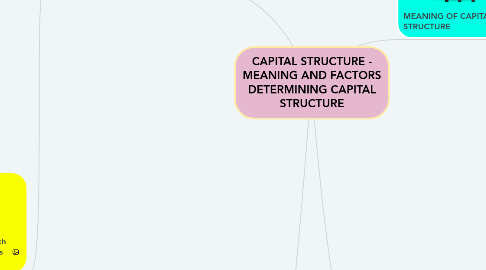 1. MEANING OF CAPITAL STRUCTURE
1.1. a. Type of securities to be issued are equity shares, preference shares and long term borrowings
1.2. b. Relative ratio of securities can be determined by process of capital gearing.
1.2.1. I. Highly geared companies
1.2.2. II. Low geared companies
2. FACTORS DETERMINING CAPITAL STRUCTURE
2.1. 1. Trading on Equity- taking advantage of equity |share capital to borrowed funds on reasonable basis.
2.2. 2. Degree of Control - it is the directors who are so called elected representatives of equity share holders.
2.3. 3. Flexibility Of Financial plan -The capital structure should be such that there is both contractions as well as relaxation in planes.
2.4. 4. Choice of investors - A capital structure should give enoungh choice to all kind of investors to invest.
2.5. 5. Capital Market condition - The market price of the shares has got an important influence.
2.6. 6. Period of financing - For short: for loans from banks and other institucions. For issue: of shares and debentures.
2.7. 7. Cost of financing - The factor of cost when securities are raised.
2.8. 8. Stability of sales - Which has growing market and high sales turnover.
2.9. 9. Sizes of a company - Company small of loans from baks and retained profits
3. CAPITALIZATION IN FINANCE
3.1. WHAT IS CAPITALIZATION
3.1.1. Represents permanent investment in companies excluding long-term loans.
3.1.2. Types
3.1.2.1. Normal
3.1.2.2. Over
3.1.2.3. Under
3.2. OVERCAPITALIZATION: This situation arises when the company raises more capital than required
3.2.1. THE CAUSES CAN BE
3.2.1.1. 1. High Promotion cost
3.2.1.2. 2. Purchase of assets at higher prices
3.2.1.3. 3. A company´s floatation boom period
3.2.1.4. 4. Inadequate provision for depreciation
3.2.1.5. 5. Liberal dividen policy
3.2.1.6. 6. Over - estimation of earnings
3.2.2. EFFECTS
3.2.2.1. 1. On Shareholders
3.2.2.1.1. a. Profitability decreases, the rate of earning of shareholders also decreases.
3.2.2.1.2. b. The Market price of shares goes down because of low profitability
3.2.2.1.3. c. The profitability going down has an effect on the shareholders. Their earnings become uncertain
3.2.2.1.4. d. With the decline in goodwill of yhe company, share prices decline
3.2.2.2. 2. On Company
3.2.2.3. 3. On Public
3.3. UNDER CAPITALIZATION: Which incurs exceptionally high profits as compared to industry.
3.3.1. THE CAUSES CAN BE
3.3.1.1. 1. Low promotion costs
3.3.1.2. 2. Purchase of assets at deflated rates
3.3.1.3. 3. Conservative dividend policy
3.3.1.4. 4. Floatation of company in depression stage
3.3.1.5. 5. High efficiency of directors
3.3.1.6. 6. Adequate provision of depreciation
3.3.1.7. 7. Large secret reserves are maintained
3.3.2. EFFECT
3.3.2.1. 1. On Shareholders
3.3.2.2. 2. On Company
3.3.2.3. 3. On Society
4. VOCABULARY
4.1. KNOWN
4.1.1. FINANCIAL
4.1.2. CAPITAL
4.1.3. COMPANY
4.1.4. MARKET
4.1.5. INVESTORS
4.1.6. INFLATION
4.1.7. COST
4.1.8. DIVIDENDS
4.1.9. INSTITUTIONS
4.1.10. RESERVES
4.1.11. PROVISION
4.1.12. DEPRECIATION
4.1.13. SOLVENCY
4.1.14. GEARING
4.1.15. SALES
4.2. UNKNOWN
4.2.1. SHOULD
4.2.2. DEBENTURES
4.2.3. DURING
4.2.4. ISSUE
4.2.5. SHARES
4.2.6. SHAREHOLDERS
4.2.7. REGARDLESS
4.2.8. BORROWINGS
4.2.9. DISTINGUISHED
4.2.10. FOLLOWING
4.2.11. DRAFTING
4.2.12. PURCHASES
4.2.13. EQUITY
4.2.14. EMPLOYED
4.2.15. OVERESTIMATE