Ideal Job
by Haleks Salazar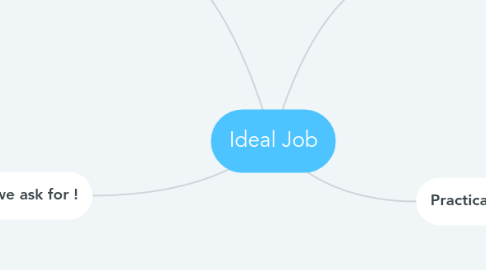 1. Personal Elements
1.1. Awesome people. Coworkers are vital for a Company
1.2. A place where we can work both by ourselves and others to achieve the end result. People who can be autonomous but still like working as a teammates.
1.3. Trust and teamwork
1.4. People who can take initiatives
2. Practical Elements
2.1. A job that provides opportunities to learn, progress and contribute to the organization.
2.2. Ability to perform : A job where our skills are well used (utilized to the maximum) and grow within the organization
2.3. Salary/Compensation
2.4. Location : * not too far * A place where I can easily meet my friends and family * Transport availability
3. Bonus
3.1. Hours not too early but not too late get some holidays
3.2. Professional travels
4. What do we ask for !
4.1. OPEN FRIENDLY SUPPORTIVE
4.1.1. It's always a big plus not to be afraid to go to work, to be fearless, not strees out to come as we are. Everybody is different and it's always good to have people who understand that
4.2. STIMULATING INSPIRING CHALLENGING
4.2.1. A job can really be a pain in the neck if we get bored. Challenge and stimulation are the keys to be really good at what we do. Even some competition can't kill our skills.
4.3. COLLABORATIVE
4.4. GOOD COMMUNICATION
4.5. PASSIONATE
4.6. CREATIVE
4.7. INTELLIGENT PEOPLE
4.8. KNOWLEDGE